Earth Day: Utilities Kingston promotes energy-efficiency program as a climate action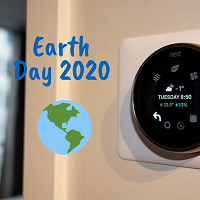 Save money and energy, when you purchase and install a smart thermostat
As you spend more time at home due to the COVID-19 pandemic, you may worry about increased energy-use in your household. That's why, for this Earth Day, Utilities Kingston is reminding its customers about a Save on Energy Community Program that can help you save energy and money, while taking climate action. The program offers a $100 bill-credit on the purchase of smart thermostats to the first 250 eligible customers to apply by Dec. 31, 2020.
A smart thermostat helps you conserve the energy used to heat or cool your home, and is one way residents can take climate action. Earth Day, celebrated yearly on April 22, promotes events held worldwide to demonstrate support for environmental protection.
"We want to help Kingstonians save energy and money. A smart thermostat helps you conserve the energy used to heat or cool your home and saves you money on your biggest home-energy cost, while also taking climate action," says Caitlin Newey, Conservation Officer for Utilities Kingston.
Smart thermostats use motion and occupancy sensors to automatically adjust temperatures and maximize energy-efficiency. Users can also adjust the thermostat remotely via WiFi.
Combine incentives
You can stack a discount on top of this smart thermostat bill-credit! Select retailers are offering 25 per cent off qualifying models, with the Ontario Rebate Program. The rebate is available in stores and online.
Learn more and apply today
To learn about the details of the Smart Thermostat Program* and apply online, visit our smart thermostat page, or call 613-546-0000, and say 'conservation'.
Subject to additional terms and conditions. Before you apply, review the complete eligibility requirements and find answers to frequently asked questions at the web links above.
* This Save on Energy Community Program is offered by Utilities Kingston and Kingston Hydro in collaboration with the Independent Electricity System Operator.
Other ways to recognize Earth Day
Are you planning your garden this Earth Day? Choose plants that need little to no water & can survive in the driest of times, while blooming in sequence, all summer long. Incorporate some drought-tolerant plants using our water-wise Garden Guide.
Did you know some insects and other creatures can be beneficial to your garden? They improve soil, pollinate flowers and control pests. Learn how to make your garden sustainable & organic this Earth Day.
Flattening the COVID-19 curve has shown us how powerful we are when we all work together. Each of us is part of our local, global and environmental community and everything we do together has an impact. See tips from the City of Kingston and Sustainable Kingston on how to celebrate Earth Day 2020 at home.
Learn about other available assistance
Learn about other ways Utilities Kingston is offering assistance to its customers during the COVID-19 pandemic.