COVID-19 and your utilities: what you need to know
With key health indicators in the province showing signs of improvement relative to COVID-19 positivity rates and transmission, Utilities Kingston is easing COVID-19 protocols effective May 13, 2022. Some of the processes described below are under review and may be changing. The health and safety of our employees and the public continues to be our top priority and we continue to proactively monitor the effects of the pandemic on our operations. You can count on us!
Fraud prevention
Canadians are seeing an increase of fraudulent emails, text messages and phone calls as scammers try to take advantage of the COVID-19 pandemic. Utilities Kingston does not visit homes or business without an appointment and we do not sell natural gas, appliances or any related services door-to-door or by phone. Please contact us if you think you've been contacted by someone pretending to be from Utilities Kingston.
Ontario Business Costs Rebate Program
The new Ontario Business Costs Rebate Program provides support for property tax and energy costs to businesses that are most impacted by public health measures in response to the Omicron variant.
Learn more and apply from the Ontario website.
If you have an appointment
Please be assured that our staff remain committed to the health and safety of our workers and the public. We are adhering to all relevant safety guidelines released by Ontario to protect workers, customers and the general public from COVID-19. Our staff are trained and wear the appropriate personal protective equipment.
If we make an appointment with you for indoor work, here's what to expect:
We'll ask standard COVID-19 screening questions. This way, we provide our employees with additional situational awareness of the risks they may encounter when responding.
As of December 1, 2021, Utilities Kingston employees are required to be vaccinated against COVID-19, in accordance with our COVID-19 Vaccination Policy.
Our technician may:
call before arriving, to determine if there is an alternate contactless solution.
require the owner/tenants to accommodate special arrangements such as:

using an alternate entrance
asking for the windows to be opened for a period of time prior to their arrival
asking occupants to leave the premises while inside, etc.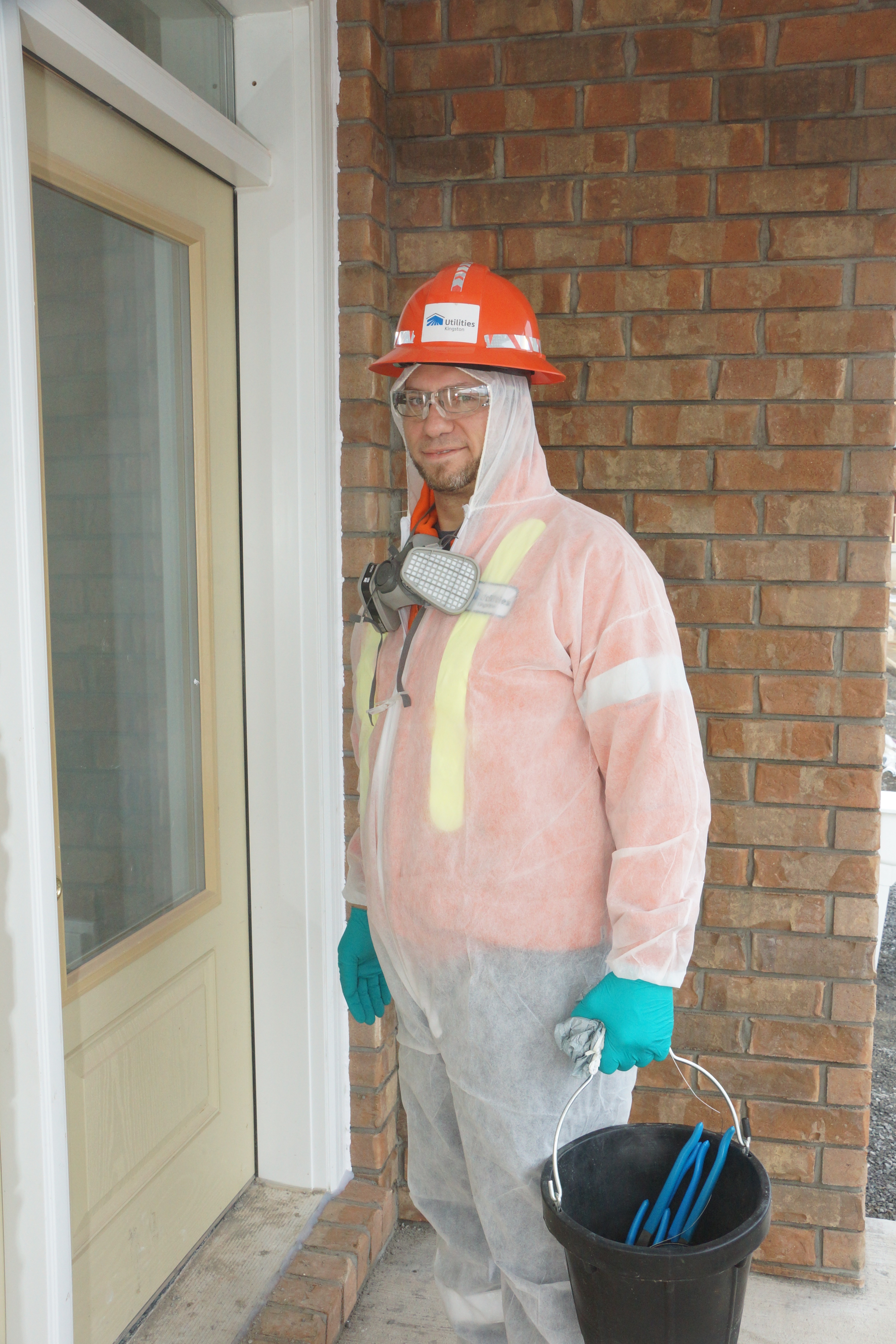 How to access services
To help contain the spread of COVID-19 in our community, access to our main office at 85 Lappan's Lane is restricted. Below are some of the common reasons people visit in person, with instructions on what you can do instead.
Ask a question about your utility bill or account:
Check out our billing FAQ. If you can't find the answer you are looking for, contact us online or by phone, Monday to Friday, from 8 AM to 4:30 PM, at 613-546-1181.
Submit a document:
Send it electronically to info@utilitieskingston.com . (We'll handle it in accordance with our privacy policy.)
Moving and asking how to set up an account/close an account:
Open or close utility account using our online form, or by calling customer service, Monday to Friday, from 8 AM to 4:30 PM, at 613-546-1181.
Make a bill payment:
Sign up to receive bills online in face of possible postal delays
Canada Post is warning of delivery delays due to the COVID-19 pandemic. Customers are encouraged to sign up to receive their utility bills online, to avoid missing a bill and payment. Customers are responsible for keeping their accounts up to date and Utilities Kingston has options in place to help.
There are many ways to pay your Utilities Kingston bill. Register to receive and pay your bill online, sign up for a pre-authorized debit plan, or pay through your bank, credit card, by mail or drop box.
Receive and pay your bills online:
Receive your bill online: sign up for MyUtilities and eBilling today at my.utilitieskingston.com. You'll need your account number and the amount of the most recent payment you made to us.
Change of name on the utility bill:
Take a photo or scan of the required documentation and email it to info@utilitieskingston.com
Sign up for pre-authorized payment:
Send this completed Pre-Authorized Debit Plan Agreement with a void cheque, copy of void cheque or a pre-authorized debit form from your bank:
By mail: Utilities Kingston, Attention: Customer Service Department, PO Box 790, Kingston, Ontario K7L 4X7

By fax: 613-546-7816

By email:

info@utilitieskingston.com
Make a payment arrangement:
Contact our credit department at 613-546-1181, ext. 2278, Monday to Friday from 8 AM to 4:30 PM. A member of our team will review your request and respond by email or phone call, as quickly as possible.
Apply to the Preventative Plumbing Program:
Applications can be submitted online
Pay for water/septage hauling:
Over the phone using a credit card, by calling 613-546-1181, extension 2337, Monday to Friday, from 8 AM to 4:30 PM.
Purchase a backflow device test tag:
Over the phone using a credit card, by calling 613-546-1181, extension 2337, Monday to Friday, from 8 AM to 4:30 PM.
New service connections, water heater rentals, service area inquiries, etc.:
Contact a services advisor by calling 613-546-1181, extension 2285, Monday to Friday, from 7:30 AM to 4 PM.
Our apologies for the inconvenience as we work to help contain the spread of COVID-19. For all other inquiries, please contact 613-546-1181, Monday to Friday from 8 AM to 4:30 PM.
Utilities Kingston signs on to the Canadian Coalition on Wastewater-Related COVID-19 Research
Utilities Kingston has signed on to Canadian Coalition on Wastewater-Related COVID-19 Research, endorsing a shared goal and agreeing to abide by seven key principles that advance Canada's ability to support the critical tasks of public health protection and surveillance, in the face of COVID-19. This Canadian Water Network coalition is a national collaboration of municipalities, utilities, researchers, public health organizations and governments.
View a map of wastewater sampling and analysis of SARS-CoV-2 in Canada.
Evidence of SARS-CoV-2 (the virus that causes COVID-19) can we found in wastewater, in the form of the organic substance RNA. Analyzing samples of wastewater for this substance can help monitor disease trends in communities and provide early detection of virus resurgence (i.e., subsequent waves of the pandemic). Essentially, this genetic signature signals the presence of COVID-19 within the community served by the sewer system. The more people have the virus, the more RNA will be found in wastewater.
The Canadian Coalition on Wastewater-Related COVID-19 Research is advancing a national proof-of-concept pilot for this initiative. In Spring of 2020, Utilities Kingston started to collect wastewater samples, and we are working with Queen's University to analyze these samples and develop a baseline for our community. Samples are collected at the start of the wastewater treatment process, at both the Ravensview and Cataraqui Bay wastewater treatment plants.
Sewer surveillance dashboard available
KFL&A Public Health has made its sewer surveillance dashboard available online. This partnership between KFL&A Public Health, Queen's University and Utilities Kingston serves as another important tool to monitor for the presence of the COVID-19 virus in our community.
Our treatment operators have been sampling wastewater at Cataraqui Bay and Ravensview Wastewater Treatment Plants since June 2020, currently three times per week. We are excited to play this essential part in advancing the science of sewer surveillance for early detection of the COVID-19 virus in Kingston.
Utilities Kingston is appealing to residents
Practice social distancing. Help protect the health and safety of Utilities Kingston employees, give them plenty of space and follow the

precautions provided by KFL&A Public Health

.
Continue to place wipes, facial tissue and paper towel in the garbage,

instead of flushing them

. This will help protect your home from a costly and unpleasant sewer back-up, and help prevent costly break-downs in treatment equipment.
Know

who provides your utility services.

Kingston is served by three electricity providers. Make sure you call the right provider in case of a utility emergency.
Protect your home from basement flooding. Review the

18 Flood Facts

to learn the steps you can take now.

Clear catch basins. If you see a catch basin that's covered in ice or debris, we appreciate those who take the time to clear it. This will help prevent flooding in your neighbourhood.

Keep fire hydrants clear. This ensures they are accessible to firefighters in case of emergency.

Report utility issues. If you see an open utility box, downed powerline, traffic signal issue or suspected water main break,

call your utility provider

, or 9-1-1 in the case of life-threatening emergencies. If the issue is in Utilities Kingston's service area, call 613-546-1181, 24 hours per day.
Be aware of any closed construction areas that have been secured for safety. Thank you for respecting barriers, signage and utility equipment. If you notice any unusual activity or damage, call our 24-hour line at 613-546-1181.
To support social distancing, we are restricting building access. Please use an alternate way to connect with us, online or by phone. To make an appointment to visit in person, please call 613-546-1181, extension 2337, Monday to Friday, from 8 AM to 4:30 PM.
Our commitment to you
Utilities Kingston is taking the necessary steps so you can continue to rely on the following:
Safe, quality drinking water.
Environmentally-sound collection and treatment of wastewater.
Safe and reliable gas services in central Kingston.
Reliable electricity services in central Kingston, CFB Kingston and Barriefield Village.
Operation of more than 10,000 street lights and traffic signals at 200 intersections.
Fibre-optic broadband networking services.
Property owners: learn how to safely reopen buildings
Utilities Kingston and the City of Kingston are providing safety information for owners of properties that have been unoccupied, or at reduced building occupancy, due to the COVID-19 pandemic. This guidance is being offered in response to information from the Province that certain businesses may now prepare to reopen.
Before reopening or increasing your building's capacity, follow the guidance at the link above to check on its water quality (as related to internal building plumbing), and for potential sewer gas build-up.