Conserving Electricity
Why conserve electricity?
Learn about "the bigger benefit". Watch The Value of Conservation from the Ontario Ministry of Energy.
Utilities Kingston and Kingston Hydro aim to reduce the environmental impact of providing utility services. These efforts improve environmental stewardship, delay the need for expensive expansions to utility infrastructure and help our customers save water, energy and money.
Manage costs by shifting electricity use to off-peak periods – visit
the My

Utilities

Customer Portal.
Check out Kilowatt Way – a new website from the Independent Electricity System Operator. You'll learn how to cut back on energy use in your home. Just answer four simple questions about your home to reveal how you use electricity and learn ways to become more energy efficient.
Why not take energy conservation one step further? Sign up to receive Utilities Kingston

Powerful Insights

reports, which offer suggestions, tailored to individual households, for actions you can take to save energy, water and money while reducing our community's impact on the environment.
Get up to $5,000 to make your home more energy efficient. Utilities Kingston customers who heat their home with natural gas, propane, oil, wood or electricity may be eligible to receive up to $5,000 in rebates on home renovations, plus additional electric appliance rebates aimed at saving energy. The Home Reno Rebate program is being offered to Utilities Kingston customers by Union Gas, in partnership with the Government of Ontario and Save on Energy.
Looking for ways to make your home more energy efficient? Sign up at the new AffordAbilityFund.org and you may receive FREE energy-saving products, appliances and more.
Commercial or Institutional Customers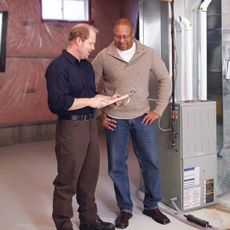 Call the conservation team to book a free energy and water efficiency walkthrough. We'll help you find opportunities to earn financial returns and demonstrate corporate responsibility. Call 613-546-0000 and say "Conservation".
Across Ontario, over 100,000 businesses are saving money and energy as a result of saveONenergy incentives! See how two local organizations are benefiting:
Save on Energy for Business

Transform your business by saving energy with Save on Energy incentive programs.