Power Outages and Powerline Safety
The safety and reliability of electricity infrastructure is important to us. Periodically, scheduled service interruptions are required to perform system maintenance. If an outage is planned for your area, we'll make our best effort to notify you.
Unplanned interruptions are usually a direct result of storm damage, motor vehicle accidents, animals, or other unexpected events. High winds can bring down power lines. If you see a downed power line or tree branch that has fallen on a power line, always assume it still has electricity flowing through it, even if it isn't sparking.
How do we inform customers about power outages?
Check our outages map for information on planned and emergency power disruptions, and learn about other ways to stay informed.
Who should you call regarding power outages and other emergencies?
Utilities Kingston is available 24 hours a day to respond to power outages in the Kingston Hydro electricity distribution area.
Are you experiencing an outage? Check our outages map, and if it's not listed, report it to us 24/7 at 613-546-1181. If you require electricity service in the west or east areas of the City, contact Hydro One at 1-800-434-1235.
Downed power lines
If you see a downed power line or tree branch that has fallen on a power line, always assume it still has electricity flowing through it, even if it isn't sparking.
Stay back at least 10 metres or 33 feet (that's about the length of a school bus) and don't touch anything metal (such as guard rails) in the area.
Report it immediately by calling 911 or our emergency line at 613-546-1181. This line is answered 24 hours a day, seven days a week.
If a power line falls on your car, the car and the ground around it may be electrified and you could be killed if you get out of the vehicle. Stay inside until the utility workers tell you it's safe to get out. Tell everyone to stay back 10 metres or 33 feet.
Get more power line safety facts from the Electrical Safety Authority.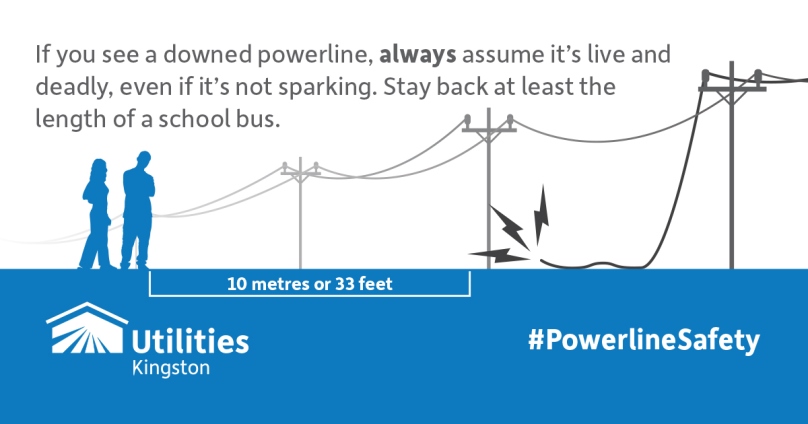 Do you know what to do if your vehicle comes into contact with live power lines? Watch this video from Kitchener-Wilmot Hydro.
What precautions should I take to prepare for a power outage?
Residents are advised to take the following precautions:
Turn off all appliances that will turn on automatically when power is restored.
Plan ahead and consider a source of back-up power for important building systems, including sump pumps.
Keep a phone that does not require electricity. Cordless phones require electricity or battery backup and may not work in a power outage. Take the opportunity when you do have power to charge critical electronic devices such as mobile phones.
Know the steps you can take to keep your food safe in an emergency with this information from the Canadian Food Inspection Agency.
Use caution when using open flames. Never leave burning candles unattended, and keep them well away from kids and pets.
Do not use a propane barbeque, camp stove or portable standby generator indoors. They can generate dangerous levels of carbon monoxide. Your carbon monoxide detector may not work in an outage.
Know safe installation and other precautions to avoid dangers associated with generators. Review the section on portable standby generators below.
Avoid elevators until the power has been stabilized.
Power outages mean that a number of traffic signals may not be working and travellers are reminded to treat the affected intersections as though they are four-way stops and yield to traffic on the right.
The City of Kingston offers a helpful resource to help you and your family prepare for an emergency. Check it out on their website. We recommend that all property owners maintain a kit which includes candles, a flashlight, batteries and a battery powered radio.
Review these Stormy Weather Tips from the Electrical Safety Authority.
Review this preventative information from City of Kingston Fire & Rescue on staying safe during a power outage.
If you depend on electrically-powered medical equipment, consider having the following:

a backup phone that does not require electricity

an uninterruptable power supply (UPS) connected at all times

back-up generation available

alternative arrangements in place (such as staying with family or friends)
Portable standby generators
Portable standby generators, when used properly, can provide an alternative power source until conventional power is restored. However, they can create electrical shock and fire hazards if connected or used incorrectly. In addition, you should never operate a generator inside your home or garage. Generators produce carbon monoxide, and if used indoors will cause a build-up of fatal fumes - fans or open windows and doors won't provide enough fresh air to keep you and your family safe.
Never put a portable generator indoors, and when using it outdoors make sure it's well away from your home's windows or doors (and your neighbours') because of poisonous carbon monoxide gas.
Don't connect your generator to your home's wiring unless you have a transfer switch. If you hook it up directly it could cause power to flow back out the powerlines to the street and electrocute utility workers.
If you're installing a permanent generator, you need a permit. The Electrical Safety Authority (ESA) recommends having a Licensed Electrical Contractor (LEC) install a back-up generator. You can find an LEC at www.esasafe.com
Get more safety tips from the Electrical Safety Authority from their page on portable standby generators.
How does Utilities Kingston respond to power outages?
When the power goes out, Utilities Kingston crews and operators work to reinstate power as quickly and safely as possible. This involves gathering information, assessing public and worker safety, ensuring work protection, identifying and gathering resources including manpower, trucks and equipment, and carrying out the work as efficiently and safely as possible.
Check our electrical safety page to learn what happens during a power outage – both out in the field and in our operations control centre.
Where does Utilities Kingston provide electricity services?
Utilities Kingston provides customer-focused and cost-effective multi-utility services in Kingston, Ontario, including safe and reliable electricity distribution services to over 27,000 customers in Central Kingston. While the service area is operated by the employees of Utilities Kingston, Kingston Hydro holds the Ontario Energy Board license to distribute electricity in Central Kingston. View a map of the service area.
How do I get updates on power outages?
Check the home page of this site: during major events, we will make every effort to update information on a regular basis.
Check our Facebook page and Twitter feed.
During extended outages, residents may also monitor the local news media for updates.
Listen to a recording of known power outages in our area by calling 613-546-1181.
Why does power sometimes flicker?
Ever wonder why electricity flickers during wind and lighting storms? Here's an explanation from our utility operators! Lighting creates a surge of electricity in the surrounding area. This surge can trip a circuit breaker, which then automatically recloses, causing a very short duration outage. Wind slapping two adjacent wires together can also cause a breaker trip and automatic reclose.
Damage to your home's electrical system
If you have serious damage to your home's electrical system, for example due to stormy weather, we may not be able to reconnect your power until you make repairs.

Typically, a homeowner's ownership of electrical equipment begins where the wires attach to the house. This means the wire from the pole to the house is generally the utility's, but the wires inside the mast/pipe, the mast, and those attached to and in the house belong to you. If this equipment is damaged, you need to arrange repairs before we can safely reconnect power. Learn more from the Electrical Safety Authority.
Learn more about the ownership demarcation point, where utility-owned and maintained equipment ends and the property owner's equipment begins.
New Account
Related Links
---
What to do when stormy weather hits, from the Electrical Safety Authority.
Avoid the Dangers of Standby Generators
Safely use generators with this informative video from Electrical Safety Foundation International (ESFi).
Help prevent snow and ice related problems with utility services.
How to detect a natural gas leak and stay safe.
Protect Your Property from Flooding
Discover measures you can take to protect your basement from flooding and sewer back-ups.
Help ensure the reliability of utility equipment. Plant the right tree in the right place, with help from ESA.
Electrical safety in case of a flood from the Electrical Safety Authority.
An explanation from BC Hydro why you might hear buzzing or crackling sounds coming from overhead wires.