Payment options
Overview
Many Utilities Kingston customers benefit from the convenience of one combined bill for all their utility services, which may include water, wastewater, gas and electricity. A combined bill helps lower costs for all rate payers.
Late payment fees
In order to avoid late payment fees, allow sufficient time for your payment to reach the Utilities Kingston office by the due date.
Any account that is not paid in full by the due date is considered to be past due. Past due accounts are subject to a late payment fee at 1.5 per cent monthly of the past due amount, as well as possible collection action or interruption of utility services.
Receive and pay your bills online
Receive your bill online: sign up for MyUtilities and eBilling today at my.utilitieskingston.com. You'll need your account number and the amount of the most recent payment you made to us.
You can also register for preauthorized payments or pay your bill online through any financial institution. Questions? Have your account number ready and call 613-546-1181, Monday to Friday, from 8 AM to 4:30 PM.
Ways to pay
Pre-authorized debit plan
The Pre-authorized Debit Plan (PAD) is one of the easiest, most convenient ways to pay your utility bill. Familiarize yourself with consumer information about preauthorized debits from the Government of Canada.
To find out more about the convenience and benefits of this payment option please contact customer service at 613-546-1181.
Also view:
Plan Agreement Form (If you haven't received your first bill, you don't need to list your account number on the form. We can look your account up, using the service address you provide on the form.)
For landlords and property owners
Sometimes your building may be associated with frequent account changes due to tenants moving in and out. To streamline the process and help avoid associated fees, Utilities Kingston offers the application for continued service.

This application allows the account to be automatically set up in the owner, landlord or property manager name to avoid any consequences of a service interruption (with the exception of disconnection for non-payment) and to avoid standard application fees. All applications are subject to the Terms of Service and Conditions of Service.

Download the Application for Continued Service for Owners.
Pay through your bank
You may pay your utility bill through your bank by teller, ATM, phone, or online. Contact your bank for details. Please allow sufficient time for your banking institution to forward your payment to Utilities Kingston by the due date. A service fee will be charged on declined payments and all cheques returned as Non Sufficient Funds (NSF), Stop Payment, or Funds Not Cleared.
Pay by credit card
Utilities Kingston accepts payments via MasterCard and Visa using a third-party service provider, Paymentus. Paymentus charges a fee of 1.75 per cent of the payment amount for each individual payment of up to $2,500. The fee covers payment handling and processing charges. Utilities Kingston does not receive any part of the service fee.
For technical help making payments via credit card, please contact the Paymentus Call Centre at 1-800-420-1663, or e-mail them at customercare@paymentus.com.
Payment centre: cash, cheque or debit
Payments can be made by cash, cheque or debit directly at the City of Kingston's Payment Centre, City Hall, 216 Ontario Street, open weekdays 8:30 AM to 4:30 PM. Physical distancing measures are in place as well as mandatory face coverings due to COVID-19.
Pay by mail
Sign up to receive bills online in face of possible postal delays
Canada Post is warning of delivery delays due to the COVID-19 pandemic. Customers are encouraged to sign up to receive their utility bills online, to avoid missing a bill and payment. Customers are responsible for keeping their accounts up to date and Utilities Kingston has options in place to help.
Payment can be mailed using the return envelope provided. Make your cheque payable to Utilities Kingston. Please allow sufficient time for your payment to reach us by the due date.
Pay by drop box
To drop off a payment, visit a 24-hour depository box located at 1211 John Counter Boulevard, 216 Ontario Street (City Hall), or 85 Lappan's Lane. Please do not put cash in the drop box.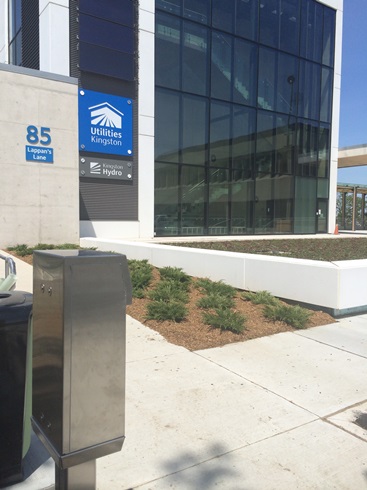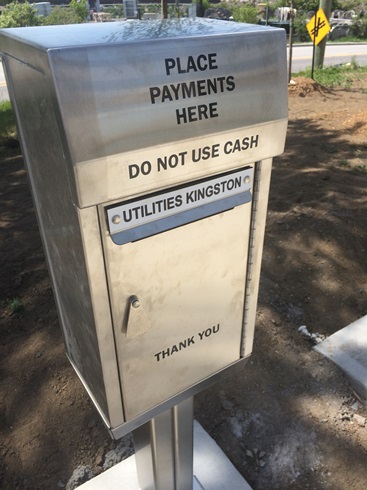 The depository box located at 85 Lappan's Lane.