Ensuring electrical safety and reliability
How we respond to a power outage – in the field and in the control centre
The safety and reliability of Kingston Hydro infrastructure is important to our customers. When the power goes out, Utilities Kingston crews and operators work to reinstate power as quickly and safely as possible. This complex operation involves gathering information, assessing public and worker safety, ensuring work protection, identifying and gathering resources including manpower, trucks and equipment, and carrying out the work as efficiently and safely as possible.
Read on to learn what happens during a power outage – both out in the field and in our operations control centre.
To illustrate, we use the example of a motor vehicle accident that severed a utility pole on September 28, 2013. The accident took place on Montreal Street, near Esdon Street.
It's 2:19 a.m. on Saturday, September 28, 2013. Operations Control Centre Journeyperson Operator Dan Moore is asleep at home. His cell phone wakes him with an automatic message: "No power to feeder".
The message comes from the supervisory control and data acquisition (SCADA) system that continuously monitors City Of Kingston's water, gas, and sewer infrastructure, as well as Kingston Hydro's electricity infrastructure.
When journeyperson operators are first notified of a power outage, information is scarce and they report to the control centre as quickly as safely possible. Operators work with crews to assess the situation and decide on the best course of action. They review:
status of the electricity infrastructure and control software
information received from third parties including customers, emergency services and transmission grid operators
environmental conditions, including time of day and weather
Sharing information with the public
We know that sharing accurate and timely information is important to help reduce the impact of service disruptions on our customers and the public. Operators relay information as early as possible to third parties including customers, media and emergency services. They update phone messages, Facebook and Twitter accounts, and media fax sheets. During business hours, they also receive support from our communications team.
Job planning: safety is the first and last consideration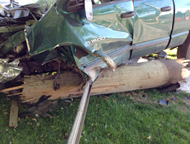 At 2:55 a.m., Kingston Police Force advises of a car accident at 1330 Montreal Street, that a pole was hit and that a live wire is down.
By 3:30 a.m., Utilities Kingston electric personnel Sheldon Waterman, Allan Hawley, Al Hannah, Steve Benoit, Bill Anderson and Julian Sigouin have identified the damage that needs to be repaired.
The first step for our electric crews is to report to Utilities Kingston and then respond to the outage area with the appropriate vehicles and equipment. There they begin to assess any immediate hazards, public safety of the site and start planning the job steps. This includes, but is not limited to:
Assessing
Condition, stability and status of Kingston Hydro poles and equipment
Proximity and stability of objects in relation to the electric wires and apparatus
Slip and fall hazards
Requirement for emergency underground utilities locates
Confined spaces
Weather conditions and visibility
Public safety
Selecting
Safe work procedures
Tools, equipment and materials required
Electrical grounding
Temporary support of pole and other electrical infrastructure
Traffic control measures to redirect vehicle and pedestrian traffic away from the work area and ensure worker and public safety
No work can take place until the site has been made safe.
During the early hours of September 28, Utilities Kingston electric crews identified environmental conditions and hazards including a broken pole, live high- and low-voltage lines, possibility of falling objects, the need for utility locates and visibility. Traffic control was managed by Kingston Police, who was on scene.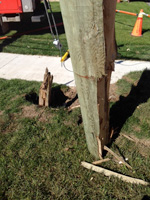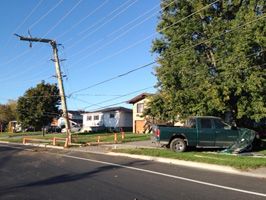 Due to the impact from the motor vehicle accident, the involved pole was broken at the base in two places, as well as at the top near the 5,000 volt lines.
The remainder of the pole was transplanted approximately two metres from its original location in the boulevard, but remained standing and was held up by the wires.
Ensuring work protection
Back in the control centre, operators use control software and maps to identify the complex switching procedures that need to take place in order to de-energize the work site and make it safe – we call this work protection.
To ensure reliability, operators consider how to best electrically isolate the incident area, while impacting the least number of customers. This involves assessing the electrical state of the distribution system – looking at loading on different circuits and determining where operators can shift the electrical loads to keep the system stable and bring power back on to as many customers as possible.
Dan identified a 21-step switching procedure that allowed crews to isolate the pole, while only affecting power to approximately 250 people. One challenge was the motor vehicle accident also severed the fibre optic cable that facilitates communication to an involved substation; this meant that additional manual labour was required to ensure work protection.
Two electric crews were dispatched at 7:30 a.m. to manually operate the 21 switch points, which was completed at 10 a.m. Taking this extra time to isolate the pole helped ensure the reliability of power to an estimated 2,000 other customers.
Restoring power
Once public safety and worker protection are ensured, and the job steps are planned, the work can begin.
Preventing worker fatigue
Often our crews are called in the middle of the night and work long hours in adverse conditions. It's important to ensure everyone's safety and that the crews monitor fatigue and take regular breaks. If you see our crews resting, please understand that it is important to both restore power efficiently and to ensure worker and public safety.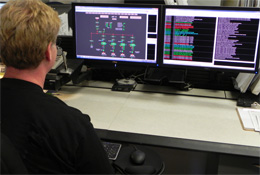 Our goal is to ensure every worker goes home safely at the end of each and every day.
Multi-utility benefits
Utilities Kingston operates water, wastewater, gas, electric, street lights and traffic signals, and fibre optic infrastructure. To help reduce service disruptions, we make use of specialized equipment and expert staff that might not be available to any one utility, were it to stand alone.
Before any digging occurred, Brian Gamble, Locator, ensured the safety of personnel and protection of any underground utility infrastructure.
To help get the power back on as quickly as possible, Dan called in resources from other utilities, including Bradley Hicks, Street Lights and Traffic Signals Technician, to help with pole installation; Brian Rose and Derrick Willits, Underground Water Infrastructure Operators to provide hydro-excavation for the pole hole; and Bill Burns, Network Coordinator and Jeremy Anderson, Journeyperson in Measurement and Communications, to assist with restoring fibre optic communication.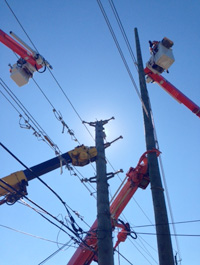 This photo shows crews installing the new 60 foot pole (right). The yellow truck arm is holding the struck pole in the middle of the photo. In order to install the new pole and restore power, crews completed ten job steps including:
surveying the work area and making it safe
switching live 44,000 volt and 5,000 volt lines to establish a safe work area
establishing a work permit
installing temporary grounds for worker protection
removing the old pole and installing the new pole
installing new hardware on the new pole
transferring the wires to the new pole
surrendering the work permit
removing temporary grounds
switching live 44,000 volt and 5,000 volt lines to restore power
Crews completed this work in eight hours and 10 minutes, about two hours ahead of the expected schedule.
Thanks!
We would like to thank our crews for their efforts and the 250 Kingston Hydro customers who were without power for their patience and understanding.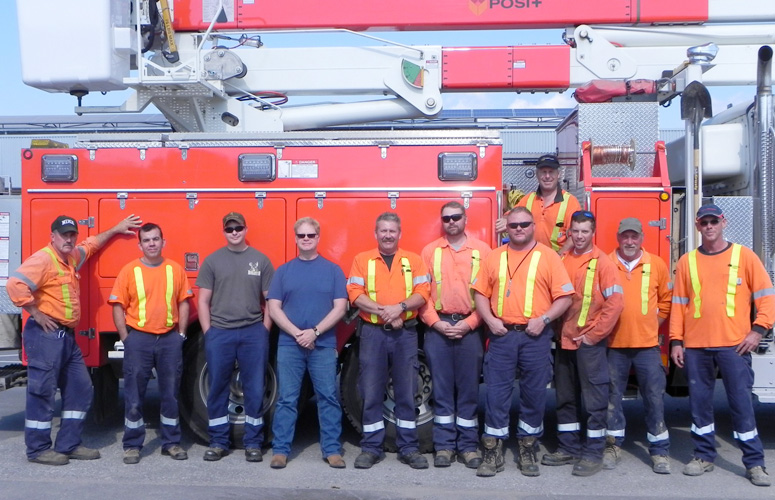 The Utilities Kingston multi-disciplinary team that assisted in repairing damage and restoring power
From left to right: Sheldon Waterman, Steve Benoit, Kyle Ryan, Dan Moore, Bill Anderson, Bradley Hicks, Brian Gamble, Allan Hawley, Julien Segouin, Brian Rose, Derrick Willits. Missing from the photo: Jeremy Anderson and Bill Burns.