Overview
Utilities Kingston provides multiple utility services in Kingston, Ontario, as well as reliable maintenance and operation of traffic signals at 200 intersections and over 10,000 street lights.
Our technicians build and upgrade traffic signal intersections, install street light poles, and quickly respond to traffic signal problems and street light outages. We strive to make this infrastructure as reliable and efficient as possible. Recent initiatives include:
Reduced municipal energy consumption by:

replacing over 10,000 high wattage street light fixtures with energy-saving light emitting diode (LED) fixtures. Read about the benefits from our page on Street light upgrades.
converting the traffic signals at all 200 intersections in the City of Kingston to LED signals.

Improved traffic signal reliability and coordination by installing:

uninterruptible power supplies (UPS) at 82 critical intersections. In the event of a power outage, the signals draw automatically from the UPS, allowing for safe and efficient traffic flow.
GPS-based timing systems at 28 intersections on Johnson Street, Brock Street, and Taylor-Kidd Boulevard, as well as at the Princess Street and Bayridge Drive intersection. These systems prevent internal clocks in traffic controllers from drifting out of synchronization, ensuring proper coordination of the signals and saving crews from manually adjusting them (on what was almost a weekly basis).
Traffic signal cameras at 62 intersections (as of 2014). These systems are a cost-effective and reliable way to determine the presence of vehicles so that signals can be changed accordingly.
Uninterruptible Power Supplies (UPS)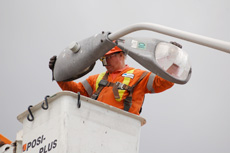 Upgrading old street lights to an energy efficient LED lighting system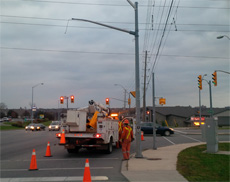 Utilities Kingston crews replacing one of 13 traffic signal heads knocked down by strong winds in November, 2013.
We're replacing these older style signal heads with more modern, stable ones.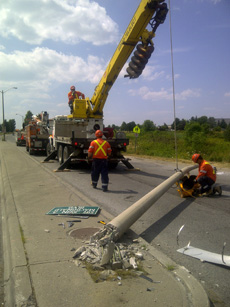 Crews replacing a street light pole severed by a motor vehicle accident