Reliable, energy-efficient street lighting
Overview
Following a successful pilot project in 2011, Utilities Kingston replaced approximately 10,000 high wattage street light fixtures with energy-saving light emitting diode (LED) fixtures.
The project was successfully completed in less than 18 months and came in under the $4 million budgeted. The municipal streetlight upgrade was completed in-house by the same Utilities Kingston employees who take great pride in maintaining, operating and upgrading Kingston's street lighting.
Crews replaced high-pressure sodium (HPS) fixtures containing 100-watt light bulbs with 53-watt LED fixtures (these are typically used in residential areas). They replaced the fixtures containing 250-watt light bulbs with 101-watt LED fixtures (typically used in high traffic areas). The 400-watt bulbs (also used in high traffic areas) were replaced with 180-watt LED fixtures.
Multiple services in one local utility
An old-style "cobra head"
HPS street light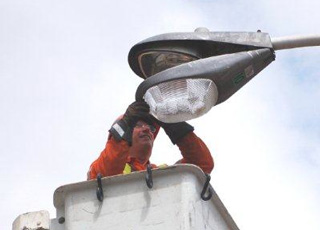 A new, more efficient, and more reliable LED street light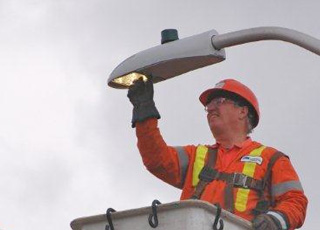 Benefits
This city-wide lighting upgrade will provide reliable and energy-efficient street lighting while reducing light pollution and maintenance costs.
Energy savings
LED lights use approximately 60% less electricity than HPS lights.
The potential for cost savings is significant: the city spends over $1 million to light the streets in Kingston.
Light quality
LED lights produce a more natural, white light.
They render colours more accurately. Illumination levels remain the same.
Reliability
The expected life span of an LED light fixture is 15-20 years.
In comparison, the typical life span of traditional HPS light bulbs is 4–5 years. Additionally, each LED fixture contains five or 10 LEDs, so if one burns out there is still light.
Reduced maintenance
LED fixtures don't use light bulbs and the components are more reliable.
Traditional HPS lights are associated with a high level of maintenance, including for replacing burnt-out bulbs, ballasts, and photocells.
Hazardous waste reduction
LEDs don't contain mercury or lead, and don't release poisonous gases if damaged.
By comparison, high pressure sodium light bulbs contain mercury and are replaced and properly disposed of every 4-5 years.
Another environmental benefit is that carbon dioxide emissions are reduced by 300 tonnes per year.
Reduced light pollution
LED lights are better at focusing light in the downward direction.
As a result, less light is lost in the air and surrounding environment.
Almost entirely, Utilities Kingston uses criteria set by the International Dark Sky Association (IDA), to reduce urban sky glow and improve the visibility of the night sky.
Feedback
We hope you'll be happy with the improved lighting on your street. You may find the colour of light to be whiter and more natural. You may notice that the light cast along your street is more uniform. We also think you'll find the lights to be reliable, with few burnt-out fixtures.
The upgraded street lights may be perceived as brighter and some people report that they create more "glare". This may take a short while to get accustomed to.
If you do notice a street light is out, please report it. If you have any questions or concerns, please contact customer service at 613-546-0000.
Background
The capital cost for this project was $4 million, including materials and installation. Electricity savings to operate the lights are projected to be $500,000 per year. In addition, we'll gain efficiencies related to street light maintenance.
Pilot project
In 2011, Utilities Kingston conducted a successful pilot project in order to assess installation, maintenance and public response.
Crews replaced 233 of the HPS street light fixtures with LED fixtures at Sir John A. MacDonald Blvd, Centennial Dr, Strathcona Park residential area, and McBurney Park residential area.
Making Kingston more sustainable
Utilities Kingston is committed to helping the community achieve its goal of becoming Canada's Most Sustainable City, and we're proud that this project helps towards that goal.
Public response in the majority of cases was favourable, encouraging a more wide-spread roll-out of the lights. The LED lighting levels and quality have remained consistent. There have not been any trouble reports for the new lights.
Did you know?
This infrastructure project has been funded in part by the Province of Ontario in partnership with the City, and received over $330,000 dollars in rebates from the SaveOnEnergy Retrofit program. Owners of exterior, sentinel, or parking lot lighting may also benefit from similar incentives when they upgrade to energy efficient lighting. Contact the Utilities Kingston conservation team for a free energy efficiency assessment today. They'll help to quantify the savings and identify incentives. Call 613-546-0000 and ask to speak with Utilities Kingston conservation.
About the street lights in Kingston
Within the municipal boundaries of Kingston, there are approximately 10,000 street lights owned by the Corporation of the City of Kingston and managed by Utilities Kingston. Before the LED streetlight retrofit, the majority of these used a high intensity discharge light source; primarily high pressure sodium with a standard cobra head fixture, mounted on an arm attached to either a hydro pole or dedicated street light pole.
The HPS bulbs were developed in the early 1970's and were, at the time, considered to be relatively efficient. However, their light rendering is not considered to be very good and they cast a light that is somewhat yellowish.
The wattage of the bulb is dependent on the roadway profile, application and design, but 100-watt HPS bulbs are the most common size and are typical in residential areas. The 250-watt bulbs are used where higher levels of illumination are warranted.
The average life span of an HPS bulb is 4-5 years.
Old-style "top hat" and "acorn" HPS street lights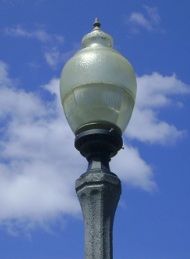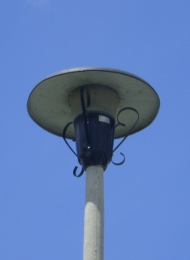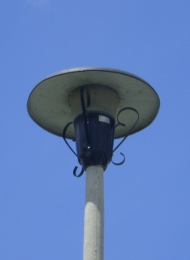 A new, more efficient and more reliable LED street light
Although the cobra head is by far the prevalent fixture found throughout the City, other types include the post-top mounted decorative top-hat and acorn styles, installed in some areas of City East and West. These fixtures typically use 100-watt HPS bulbs. Standardizing on one post-top mounted fixture style facilitates more efficient maintenance and operation.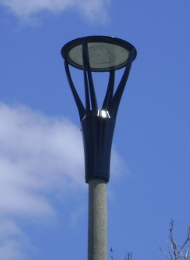 Questions?
If you have any questions or concerns about street lighting in your neighbourhood, please contact customer service at 613-546-0000.