Tree trimming for safety and reliability
Introduction
To ensure worker and public health and safety, and to meet regulatory requirements, we contract trained arborists to trim the trees in the entire Kingston Hydro distribution area over a three-year period.
What to expect
If we're trimming vegetation in your neighbourhood, here is what to expect:
If your property will be directly impacted, (e.g., if we are pruning trees on your property or removing trees in close proximity), you will receive an information card in your physical mailbox in advance of the work.
We will ask you to help ensure that crews can access your backyard and that pets are restrained. We understand the inconvenience and appreciate customers who assist in this way.
In order to safely trim trees, crews may need to access your backyard or laneway. Reference the diagrams below, which explain what to expect before and after tree trimming.
Power outages are sometimes needed. We will provide residences and businesses with advanced notice. View planned power outages from our map.
Fast-growing or invasive species such as Manitoba Maples and Norway Maples are dealt with more aggressively than slow-growing and small species like oaks and lilacs.
Crews will clean up debris resulting from this work.
Trees that are on private property may need to be trimmed if they are encroaching upon the hydro lines.

Crews will conduct minor trimming of privately owned trees at no cost to the property owner.
Property owners are responsible for significant work associated with private tree trimming. In this case, crews will communicate with property owners.
Large diameter wood may be left on site for property owners to use or dispose of.

All vegetation marked with orange tape will be removed.
To demonstrate how we will prune and remove vegetation along the right-of-way, we have included 'before and after' tree trimming diagrams below.
Did you know? For every publicly-owned tree removed, we fund replacement with two trees within the city.
Right tree, right place
Tree contacts with live wires cause power outages and property damage. Ensure you are planting the right tree in the right place:
Locate overhead and underground powerlines. Call Ontario One Call before you dig at 1-800- 400-2255 for a free, fast utility locate.
Check the growing height of the species you want to plant.
Plan the proper planting location.
The Electrical Safety Authority has prepared a number of resources to help you stay safe and plan the proper planting location.
Tree trimming schedule
Will tree trimming impact your neighbourhood this month? Click on a neighbourhood in the map below to find out. The map is updated on a monthly basis and reflects the Kingston Hydro electricity distribution area.
Before and after tree trimming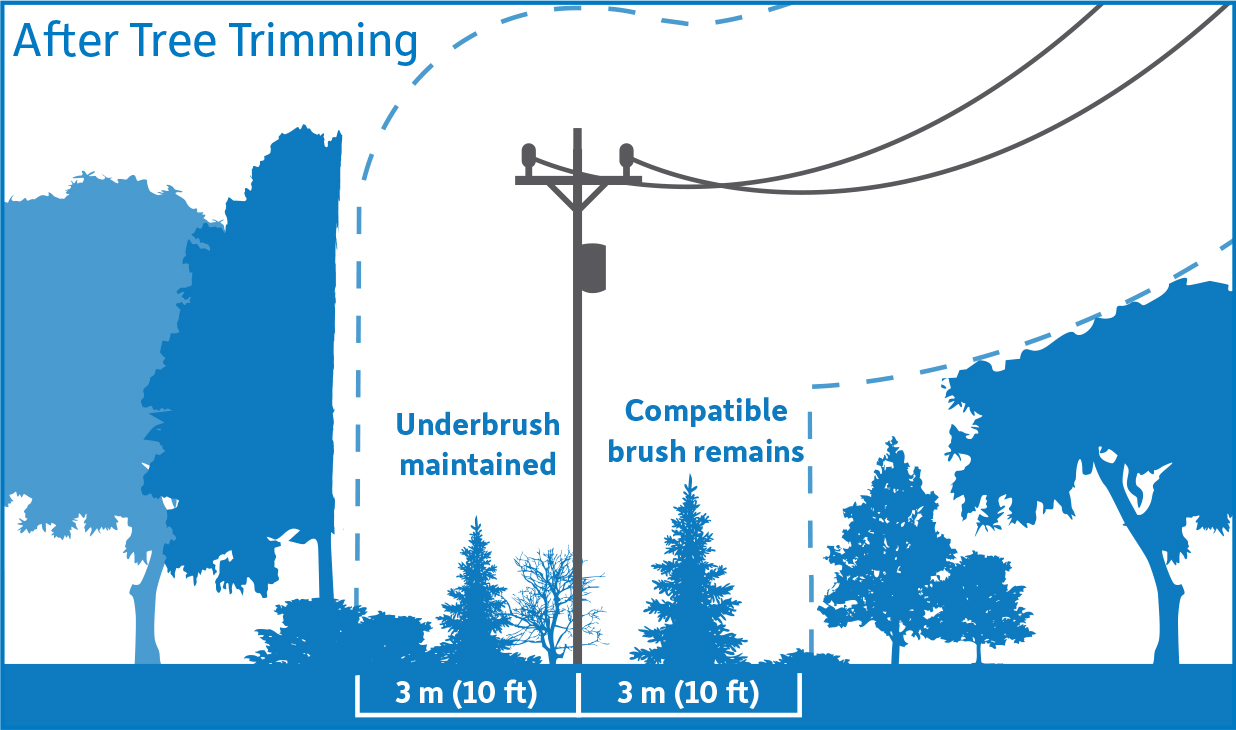 Contact
For further information, contact customer service, from 8 AM to 5 PM Monday to Friday, at 613-546-0000.