Electricity and gas customers can save on home cooling costs with the Smart Thermostat Program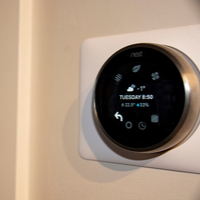 Keep cool, save money and energy, when you purchase and install a smart thermostat
As you spend more time at home due to the COVID-19 pandemic, you may worry about increased cooling costs for your household. That's why Utilities Kingston is reminding its customers about a Save on Energy Community Program that can help you save energy and money. The program offers a $100 bill-credit on the purchase of smart thermostats to the first 250 eligible customers to apply between Jan. 1 and Dec. 31, 2020.
A smart thermostat helps you conserve the energy used to cool your home, and is one way residents can take climate action.
We want to help Kingstonians save energy and money, while keeping cool at home this summer. A smart thermostat helps you conserve the energy used to cool your home and saves you money on your biggest home-energy cost, while also taking climate action.
Keep cool and energy efficient this summer
Tips:
A properly set programmable thermostat can reduce heating and cooling costs by up to 10 per cent.

Install the thermostat on an interior wall where there are no vents or drafts.

Smart thermostats automatically adjust the temperature for energy savings when you leave home and restore your comfort settings when you return. Users can also adjust the thermostat remotely via WiFi.

To save on cooling costs using a traditional thermostat, set it to 25°C when you are home, and 28°C when away.

Ceilings fans are an energy efficient way to help keep the temperature in your home regulated this summer.

Dirty filters restrict air flow and reduce efficiency. Clean or replace regularly, and don't forget about regular annual maintenance of your central system, by a licensed contractor.

Get nearly 100 conservation tips to help you save water, energy and money. For example, did you know that uncovered pools can lose 30 per cent of their heat – and over 1,000 litres of water and expensive chemicals each month – just through evaporation?
Combine incentives
You can stack a discount on top of this smart thermostat bill-credit! Select retailers are offering 25 per cent off qualifying models, with the Energy Savings Rebate Program.
Learn more and apply today
To learn about the details of the Smart Thermostat Program* and apply online, or call 613-546-0000, and ask to speak with 'Utilities Kingston conservation'.
Subject to additional terms and conditions. Before you apply, review the complete eligibility requirements and find answers to frequently asked questions at the web links above.
* This Save on Energy Community Program is offered by Utilities Kingston and Kingston Hydro in collaboration with the Independent Electricity System Operator.
Learn more about other available assistance
Learn about other ways we are offering assistance to our customers during the COVID-19 pandemic.