Working together to ensure the reliability of core utility services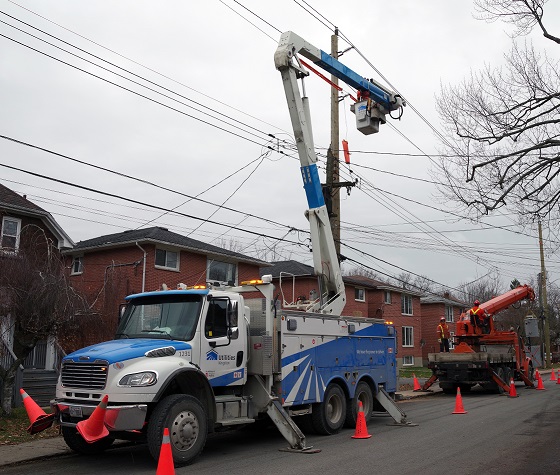 As Utilities Kingston takes steps to ensure the continued reliability of core utility services, the local utility company reminds residents about the need to work together during this difficult time.
"Ensuring the reliability of core water, wastewater, natural gas, electricity and broadband networking services remains a top priority for us at Utilities Kingston," says Jim Keech, President and CEO. "You can count on us. I'm asking the people in our local community to continue doing your part. We need to work together, now more than ever before."
Utilities Kingston is appealing to residents:
Practice social distancing.

Help protect the health and safety of Utilities Kingston employees, give them plenty of space and follow the precautions provided by KFL&A Public Health.

Continue to place wipes, facial tissue and paper towel in the garbage, instead of flushing them. This will help protect your home from a costly and unpleasant sewer back-up, and help prevent costly break-downs in treatment equipment.
Know who provides your utility services. Kingston is served by three electricity providers. Make sure you call the right provider in case of a utility emergency.

Protect your home from basement flooding. Review the

18 Flood Facts

to learn the steps you can take now.

Clear catch basins. If you see a catch basin that's covered in ice or debris, we appreciate those who take the time to clear it. This will help prevent flooding in your neighbourhood.

Keep fire hydrants clear. This ensures they are accessible to firefighters in case of emergency.

Report utility issues. If you see an open utility box, downed powerline, traffic signal issue or suspected water main break, call your utility provider, or 9-1-1 in the case of life-threatening emergencies. If the issue is in Utilities Kingston's service area, call 613-546-1181, 24 hours per day.

Be aware of any closed construction areas that have been secured for safety. Thank you for respecting barriers, signage and utility equipment. If you notice any unusual activity or damage, call our 24 hour line at 613-546-1181.

To support social distancing, we are restricting building access. Please use an alternate way to connect with us, online or by phone. To make an appointment to visit in person, please call 613-546-1181, extension 2337, Monday to Friday, from 8 AM to 4:30 PM.
Utilities Kingston is taking the necessary steps so you can continue to rely on the following:
Safe, quality drinking water.

Environmentally-sound collection and treatment of wastewater.

Safe and reliable gas services in central Kingston.

Reliable electricity services in central Kingston, CFB Kingston and Barriefield Village.

Operation of more than 10,000 street lights and traffic signals at 200 intersections.

Fibre-optic broadband networking services.
If you have any questions or concerns, please contact customer service, Monday to Friday, from 8 AM to 5 PM, by calling 613-546-0000.
Related information
Thanks for not flushing wipes, facial tissue and paper towel