Mix of wintry weather could bring basement flooding and power outages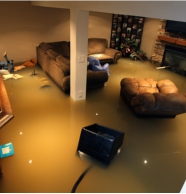 A strong storm system is forecast to bring a messy mix of wintry weather beginning this evening, including heavy rain, melting snow, freezing rain and ice pellets, as well as snow that is heavy at times. In preparation, Utilities Kingston is urging residents to take steps to protect their properties and know who to call in case of a power outage.
The rain will combine with rapidly melting snow to increase the risk of basement flooding, even if your basement has never flooded before. Rain is predicted to begin late in the day February 16 and continue through February 17. Forecasted rainfall totals are uncertain, ranging from 15– 40 mm.
The storm brings an increased risk of power outages, while heavy snow and ice can bring down powerlines. Kingston is served by three electricity providers. Know who to call in your area, by reviewing our map electricity service areas in Kingston. In case of a downed powerline, stay at least the length of a school bus away, and call 9-1-1.
Basement flooding prevention
Know what to do if your basement has flooded. First and foremost, consider your family's health and safety. Entering a wet basement could be hazardous! When in doubt, don't enter the flooded area until you are told it is safe by a professional qualified to do so.
Protect your property from basement flooding
During heavy rainfalls and rapid snow melt, every basement is at risk of flooding - even if it's never happened before. Ensure rainwater drains away from your foundation. Consider the following tips to protect your property:
Remove high-value items out of your basement and store other items in watertight containers.
Check your sump pump for proper operation and follow the manufacturer's maintenance recommendations. For example, you may wish to:
Confirm it's plugged in and working properly. Have you considered battery backup in case of a power outage?
Consider an extra length of hose to increase the distance at which it discharges away from your foundation.
Consider, if your sump pump drains to the surface, the discharge point may be buried under snow, ice and debris. Uncover it and clear a path so the water drains away from your foundation. Otherwise, water may recycle back into your basement.
Check your sump pump lines to ensure they aren't frozen.
Check your sanitary backwater valve, and operate and maintain it according to the manufacturer's directions. Consider these tips:
If you can do so safely, you may wish to open the lid, clean it out, confirm there is a good seal in place and test its operation.
When it's raining heavily, reduce your water use. The sewers may be filling due to the heavy rains and the device's gate may close to block sewage from backing up into your home. The opposite is also true – sewage from your home cannot get out, either.
In general, the devices must be installed in accordance with manufacturer directions and Ontario building code, in an accessible location. Check and clean the devices frequently, following the type and frequency of maintenance, as per manufacturer recommendations.
Get more information about backwater sanitary valves.
Ensure your downspouts are clear of snow, ice and debris so water routes safely away. Downspouts should be directed at least two meters away from the foundation, so you may wish to consider an extra length of pipe.
Reduce your water use on rainy days. When it's raining heavily, the sewers may fill up. Using a lot of water during heavy rains (for example, taking a shower or doing laundry) can contribute to basement flooding and overflows to your environment. Consider using less water in extreme weather situations.
If you know that a catch basin on your street is covered in snow, ice and debris, we'd appreciate if you could take some time to clear it. This will help make sure that rainwater can enter the storm sewer and promotes good drainage away from your neighbourhood.
Get 18 Flood Facts and tips to protect your property, and detailed information to protect your property.
Who provides your electricity?
Kingston is primarily served by two electricity providers – Utilities Kingston and Hydro One. A small number of homes and businesses in Kingston East and north of the 401 receive their services from Eastern Ontario Power.
In the event of a power outage:
Utilities Kingston customers – check our Outage Map or call 613-546-1181 anytime.
Hydro One customers – check www.hydroone.com/StormCenter, text WATTS

(92887)

or call 1-888-664-9376.
Eastern Ontario Power customers – call 1-844-601-9473.
To see if you are in Utilities Kingston's service area, use the address look-up tool. Utilities Kingston's electricity customers are in Central Kingston, Barriefield and CFB Kingston. If you are not in Utilities Kingston's area, check your electricity bill or view a map of electricity service areas in Kingston.
Always call to report a utility emergency
Utility issues could create a serious safety hazard. Always call – and NEVER email or use social media – to report a utility emergency. Here is a list of who to call:
If you see a downed power line or other life-threatening situation, call your electricity provider's emergency line or 9-1-1.
Tree branches on power lines, open utility boxes and damaged hydro poles could all create serious safety risks and should be immediately reported. Call your electricity provider for the area (see list above).
Downed lines and tree branches
If you see a downed power line or tree branch that has fallen on a power line, always assume it still has electricity flowing through it, even if it isn't sparking.
Stay back at least 10 metres or 33 feet (that's about the length of a school bus) and don't touch anything metal (such as guard rails) in the area.
Report it immediately by calling 911 or our emergency line at 613-546-1181. This line is answered 24 hours a day, seven days a week.
If a power line falls on your car, the car and the ground around it may be electrified and you could be killed if you get out of the vehicle. Stay inside until the utility workers tell you it's safe to get out. Tell everyone to stay back 10 metres or 33 feet.
Traffic signals may not be working
Consider these precautions:
During stormy weather, be aware of, and avoid driving or walking under, dangling traffic signal heads. Report traffic signal issues in Kingston to 613-546-1181.
Power outages and high winds mean that a number of traffic signals may not be working. Travelers are reminded to treat the affected intersections as though they are four-way stops and yield to traffic on the right.
Did you know? We've installed 82 uninterruptible power supplies at critical intersections throughout the city - check out this map of locations. In the event of a power outage, the UPS allow for safe and efficient traffic flow, providing power for three to six hours.
Also review these tips from the Ministry of Transportation with safety information about driving and flooded areas.
Tips for heavy snow fall
Keep outside exhaust vents cleared
Keep hydrants visible
Learn more from our page winter safety.
Check our sewer overflow map
During and after heavy rainfall, sewer overflow points may discharge diluted sewage into the environment and contribute to pollution. Utilities Kingston provides this information on a real-time map to help you make a better-informed decision about recreational water use. Consider this information along with public health precautions.
Stay updated
We strive to provide reliable and timely information about utility interruptions. Stay up-to-date by following us on Facebook and Twitter.
Contact us
For 24-hour emergency assistance with a utility assistance in the Utilities Kingston service area, call us at 613-546-1181. .
Related
Cataraqui Conservation has issued a Watershed Conditions Statement