Keep your gas meter accessible and safe
Overview
Utilities Kingston reminds you that, although your outdoor gas meter is designed to withstand winter weather, heavy or hard-packed snow and ice on your meter can be a safety hazard.
If you suspect a problem with your gas meter equipment, call Utilities Kingston at 613-546-1181.
Clear away snow and ice
Never let snow completely cover your meter.
Do not shovel snow up against your meter.
Take care in using a snow blower or plow near your meter.
Never kick or hit the gas meter or its piping to break away built-up snow or ice.
Use a broom to gently clear snow and ice from this equipment. If you have trouble gently removing ice, contact Utilities Kingston.
The external vent pipes of furnaces, fireplaces, water heaters and clothes dryers should also be kept clear.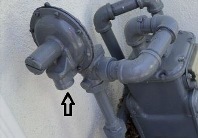 Keep equipment functioning safely
Accumulated snow places stress on your meter piping; damage to the piping can cause a gas leak.
Every meter has a pressure relief vent. It is important to keep this clear of snow and debris.
In case of emergency, emergency response crews need access to your meter.
If you live in Central Kingston and can't gently remove snow or ice build-up on your gas meter equipment, or if you suspect a problem, please call us at 613-546-1181. Customers in west and east areas of the city can contact Union Gas at 1-877-969-0999.
If you detect the rotten egg smell of a gas leak, leave the area immediately and call from another location!
Get additional information on gas safety and review other winter safety tips.