Natural gas customers: apply for a $100 credit when you purchase and install a smart thermostat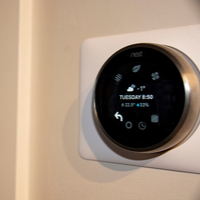 In response to rising natural gas prices around the world and with the heating upon us, Utilities Kingston is offering a $100 bill credit on the purchase of a smart thermostat to our natural gas customers. The increases to natural gas prices are related to the resurgence of the economy, which increased energy demand.
We're helping our customers save energy and take climate action:
A smart thermostat helps you conserve the energy used to heat or cool your home and saves you money on your biggest home energy cost.

Smart thermostats use motion and occupancy sensors to automatically adjust temperatures and maximize energy efficiency.

Users can adjust the thermostat remotely via WiFi.

Getting a smart thermostat is a great step you can take to reduce energy-related greenhouse gas emissions.
Did you know? Energy conservation extends the life of utility infrastructure.
Residents who receive natural gas services from us can review the complete eligibility requirements, find answers to frequently asked questions and apply online.
How it works
This program is for smart thermostats purchased and installed on or after October 29, 2021.

Buy and install a smart thermostat that meets the technical requirements.

Complete the online application and send proof of payment to Utilities Kingston.

If you are eligible, Utilities Kingston will apply a credit of $100 to your utility account. (You must receive natural gas services from Utilities Kingston.)
Subject to additional terms and conditions.