Is water main relining coming to your neighbourhood?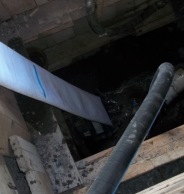 2020 water main relining program
Utilities Kingston has awarded the 2020 contract for water main relining to Fer-Pal Construction Ltd. Work will start in early June, with completion by the middle of November.
Relining water main allows us to rehabilitate aging pipes while minimizing service interruption and nuisance to residents. Instead of digging up the road along the entire length of the water main, Fer-Pal will excavate 'pits' to access the main at strategic locations and work from there.
The relining process involves cleaning the inside of the mains and then inserting a felt liner that is coated with a resin. This resin compound is then cured-in-place to form what is essentially a 'new pipe within a pipe'. We'll also replace aging infrastructure in the area, including water valves and fire hydrants. This helps to ensure the continued safety and reliability of the water distribution system.
As we carry out this work in your neighbourhood, Utilities Kingston and our contractors remain committed to the health and safety of our workers and the public. We are adhering to all relevant safety guidelines released by Ontario to protect workers, customers and the general public from COVID-19. Please do your part by maintaining physical distancing of at least two metres from our workers.
Read more information about COVID-19 and your utilities.
Water main relining will take place at the following locations:
The 2020 program involves relining approximately 2,700 meters of water main, primarily in the Collins-Bayridge residential area, in the west end of Kingston:
Fleet Street

, from Sussex Blvd. to Lincoln Dr.

Wembly Place

, from Fleet St. to end

Hill View Road

, from the Creek westerly to the CN tracks

Centre Street

, from Hillview Rd. to the north end

Lashford Street

, from Center St. to Collin's Bay Rd.

Glen Cove Street

, from Lashford St. to Prince Charles Dr.

Prince Charles Drive

, from the Creek to Collins Bay Rd.

Brookside Drive

, from Prince Charles Dr. to the north end
Watch for notice of upcoming work
Residents in the areas listed above should watch for notices of upcoming work from Fer-Pal.
The notices will be delivered at least 48 hours before work is set to begin and will include details on what to expect.
What to expect if work is taking place in your area
Due to precautions related to the COVID-19 pandemic, workers will not enter your premises, unless in an emergency situation.

Your house will be hooked up to a temporary potable water supply system. Depending on the temporary water connection point, you may not see a consumption charge on your bill, but the monthly service charge remains in effect for all customers.

Water main relining may result in water service issues such as reduced pressure and increased water temperature. Our apologies for the inconvenience. If your water is warm, run your tap until the water is cold. If the issue doesn't improve, contact us as described below.

Utilities Kingston and contractor staff always carry identification. Homeowners should always ask to see it.

Utilities Kingston will require connection to an exterior hose bib (or other connection).

Minor traffic interruptions should be anticipated around access pits and where work is being conducted.
Contact
If you are in the 2020 relining area and have concerns about the project or your water service please contact the below:
Monday-Friday, from 7 AM to 5 PM, contact Fer-Pal at 416-742-3713.

Outside of these hours, contact Utilities Kingston at 613-546-1181.
For further information, contact customer service, Monday to Friday, from 8 a.m. to 5 p.m., at 613-546-0000. Watch for updates on this work on the water main relining projects page.