How to avoid building large utility balances that you have to pay later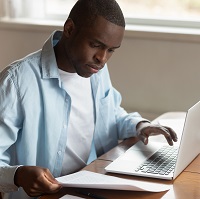 Online form provides an easily-accessible way to request utility payment assistance
To better serve our community during this difficult time, Utilities Kingston has created a convenient online payment-assistance request form for customers. We are offering support to help you avoid building large balances that you will have to pay later.
Concerned about paying your bill or experiencing hardship? Please contact us to discuss extended bill payment options and financial assistance programs. You can set up payment arrangements and ask for time to pay them off by:
Completing the three-step online form.

Calling 613-546-1181, ext. 2278, Monday to Friday from 8 AM to 4:30 PM.
For understandable reasons, some of our customers are struggling to pay their bills right now. We want to help residents and small business owners avoid building up large balances that could become a bigger burden later. We made this form to help create a dignified and easily accessible way for customers to connect with us.
Customers who complete the form, available at the link above, will be contacted via telephone or email as quickly as possible.
As the COVID-19 pandemic situation changes daily, Utilities Kingston is adapting too. Learn other ways in which we are assisting customers and responding.