Apply to the COVID-19 Energy Assistance Program
This article was published more than 6 months ago. Some information may no longer be current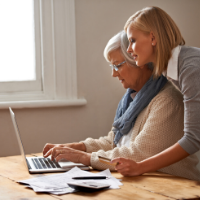 Utilities Kingston is now delivering the COVID-19 Energy Assistance Program or CEAP, funded by the Government of Ontario.
CEAP provides a one-time, on-bill credit to eligible residential electricity and natural gas customers who have experienced hardships as a result of the COVID-19 pandemic. The program is intended to help them catch up on their energy bills and resume regular payments.
Learn about benefit amounts and eligibility criteria, and get answers to frequently asked questions, from the Ontario Energy Board website.
Application information
As funding is limited, we encourage you to apply as soon as possible. Credits will be given on a first-come, first-served basis. We will process applications in the order in which they are received. CEAP funding is not guaranteed even after a complete application has been submitted.
We have been allocated a share of the funding, based on how many residential customers we have. We will stop accepting applications and providing CEAP credits once our allocated share of CEAP funding has run out.
Apply for CEAP using our online form.
Completed applications will be processed within 10 business days of receipt.
An application is considered received on the date it is complete. Complete applications for eligible customers will be processed and we will apply any available credit to the next bill.
Once the funds allotted by the provincial government are depleted, applications can no longer be processed.
Do you receive your electricity services from Hydro One or your natural gas services from Enbridge Gas? Please apply using their online forms.
Questions or concerns? We are here to support you during this difficult time. Contact us at 613-546-1181, ext. 2278, Monday to Friday from 8 AM to 4:30 PM. 
We're here to support you
We at Utilities Kingston recognize this is a difficult time for our community and are letting our customers know: we're here to support you. If you are not eligible for CEAP but are concerned about paying your bill, experiencing hardship, or have been impacted by the COVID-19 pandemic, please contact our credit department using our online payment assistance form. ***note this is not the form to apply for CEAP.
A member of our team will review your request and respond by email or phone call, as quickly as possible. Alternatively, you can call us at 613-546-1181, ext. 2278, Monday to Friday from 8 AM to 4:30 PM.