After heavy rains, check our online sewer overflow map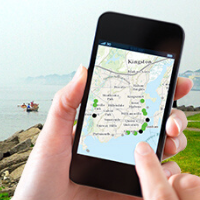 With the City of Kingston recently reopening some municipal boat launches, we would like to remind boaters and other waterfront users to check our sewer overflow map after heavy rainfalls. (Note that beaches and other park amenities remain closed until further notice.)
Kingston's waterfront is a clean, safe place to boat, fish or swim. But, bacteria levels in lakes and rivers are higher up to 48 hours after a heavy rainfall and swimming is not recommended during that time. Sewer overflows can contribute to the problem. Our online map shows where sewer overflows have occurred in real time.
"We are proud to be transparent in helping residents make more informed decisions on recreational water use, as we continue to both reduce sewer overflows and openly share information," says Jim Keech, President and CEO of Utilities Kingston. "Water users can consider our real-time sewer overflow map before they use certain locations at Lake Ontario within 48 hours of a heavy rainfall."
When Kingstonians or visitors plan to swim, fish or boat in Lake Ontario within 48 hours after heavy rain, they are encouraged to first check the overflow map. Sewer overflow locations affecting the Great Cataraqui River, the Little Cataraqui Creek, and other surrounding bodies of water are also shown.
During the COVID-19 pandemic, water users will also need to consider provincial orders and municipal information, including practicing physical distancing.
"KFL&A Public Health supports Utilities Kingston in their initiative to improve public notification of sewer overflows into recreational waters. This information is beneficial to the public's health and we're glad that it's being shared. The sewer overflow map is a resource that should be considered after a heavy rain fall, before deciding to participate in recreational activities on the water," said Dr. Kieran Moore, Medical Officer of Health for KFL&A Public Health.
How we're reducing sewer overflows
Utilities Kingston and the City of Kingston continue to improve infrastructure to reduce sewer overflows. Over the last twenty years, we have been working to separate Kingston's historic combined sewer system and install large holding tanks to reduce overflows and rainwater that enters the sanitary system. These activities help reduce the sewer overflows associated with heavy rainfalls.
In 2020, Utilities Kingston will continue to separate combined sewers to further reduce combined sewer overflows. The work will take place on College Street (from Union to Hill), Napier Street (from Hill to Earl), Toronto Street (from Earl to Johnson), and Frontenac Street (from Earl to Johnson).
More information
Visit additional web pages to learn about projects to reduce sewer overflows and see an animated map showing where we have separated sewers since 2001. You can also view a brief video animation about sewer overflows in Kingston, and get answers to frequently asked health and technical questions.