Seasonal weather contributes to increase in water main breaks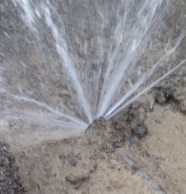 Our community is reminded that the weather this time of year can contribute to an increase in water main breaks. Deep frost and freeze-thaw cycles can expand and contract materials, thereby stressing the pipes and causing cracks. This was highlighted this week, as crews responded to several watermain breaks, including at Rose Abby Drive and Fortune Crescent (see photos below).
The Rose Abby Drive repair was especially challenging. The duration of the water outage was extended due to a difficult 'dig' in order to access the affected part of the main. Crews worked through the night and were relieved by a new team come morning. Staff made every effort to reduce the size of the outage area and we thank them for their efforts!
Providing a safe, reliable source of drinking water to our customers is important to us. When a water main breaks, we recognize that it can be disruptive to local traffic, pedestrians and our water customers - who count on a reliable supply of tap water. Our water main web page provides information to explain why breaks happen, and how we both proactively help prevent breaks as well as repair them.
Be prepared for water service disruptions
Being prepared is the best thing you can do to reduce the impact of a water service disruption. Take these steps:
The City of Kingston emergency management plan suggests that each household has at the ready four litres of water, per person, per day for drinking and bathing.
Know the number to call: report potential water main breaks and other utility emergencies to us by calling our 24 hour line at 613-546-1181.
Stay informed: you can keep up-to-date with service disruptions by following Utilities Kingston on Twitter and Facebook, or by checking http://www.utilitieskingston.com.
Every basement is inherently at risk of flooding, and it can happen for many reasons, including water main breaks. Learn how to protect your home from basement flooding.
This water main repair on Rose Abby Drive was especially challenging due to a difficult excavation.


Water operations crews respond to a water main break on Fortune Crescent.