Water main breaks
Providing a safe, reliable source of drinking water to our customers is important to us. When a water main breaks, it can be disruptive to local traffic, pedestrians and our water customers - who count on a reliable supply of tap water. This web page explains why breaks happen, how our crews respond, what proactive steps we take to prevent them, and what you can do to reduce the impact of these service disruptions.
Did you know, being prepared is the best thing you can do to reduce the impact of a water service disruption? Take these steps:
The City of Kingston emergency management plan suggests that each household has at the ready four litres of water, per person, per day for drinking and bathing.
Know the number to call: report potential water main breaks and other utility emergencies to us by calling our
24 hour line at 613-546-1181.
Stay informed: you can keep up-to-date with service disruptions by following Utilities Kingston on Twitter and Facebook, or by checking http://www.utilitieskingston.com.
Every basement is inherently at risk of flooding, and it can happen for many reasons, including water main breaks. Learn how to protect your home from basement flooding.
Why breaks happen
Utilities Kingston maintains nearly 600 kilometres of municipally-owned water main, ranging in size from 150 to 1,200 millimetres. Depending on the decade when they were installed, these pipes may be made of metal or plastic materials.
Materials and installation
Over time, cracks can form, allowing water to leak out of the pipe. Cracks can develop for a number of reasons such as corrosion and material defects.
Water main breaks most often occur on aging infrastructure. For example, they're more likely to happen on older corrosive materials, such as cast iron, and with more traditional installation techniques. For instance, pipes that are laid on wooden blocks or resting on rocks have a higher risk of failure.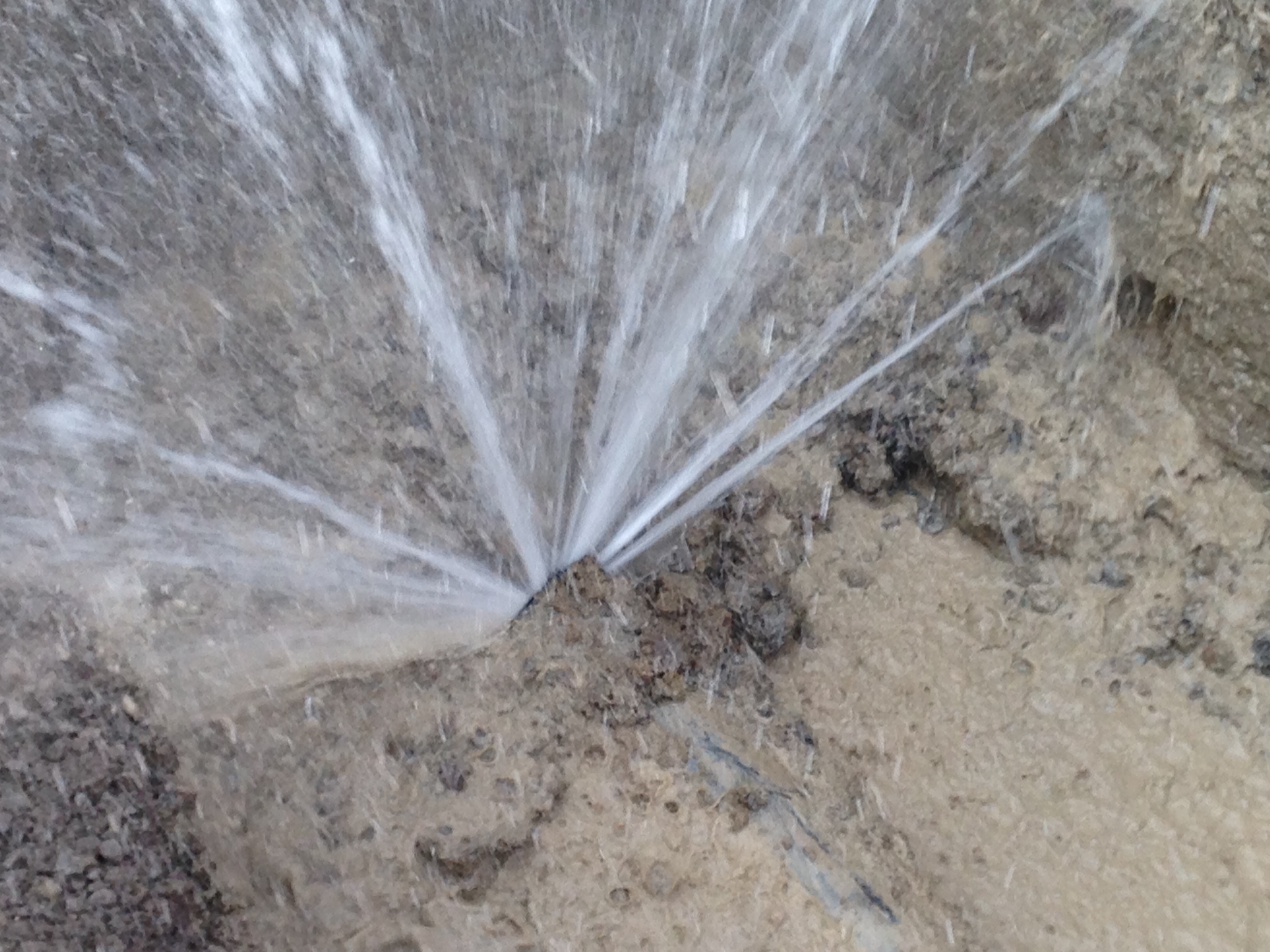 Water sprays from a
circumferential break on a
six inch cast iron pipe
More recently, the industry has advanced the materials and installation practices used, so it's less of an issue with newer infrastructure.
Cold weather
Weather is also a big factor impacting water main breaks. Deep frost and freeze-thaw cycles can expand and contract materials, thereby stressing the pipes and causing cracks.
In 2014, we experienced a tough, cold winter. Weather factors influenced a larger than usual number of breaks. Crews responded to 50 leaks/breaks, compared to 38 the year before.
Type of breaks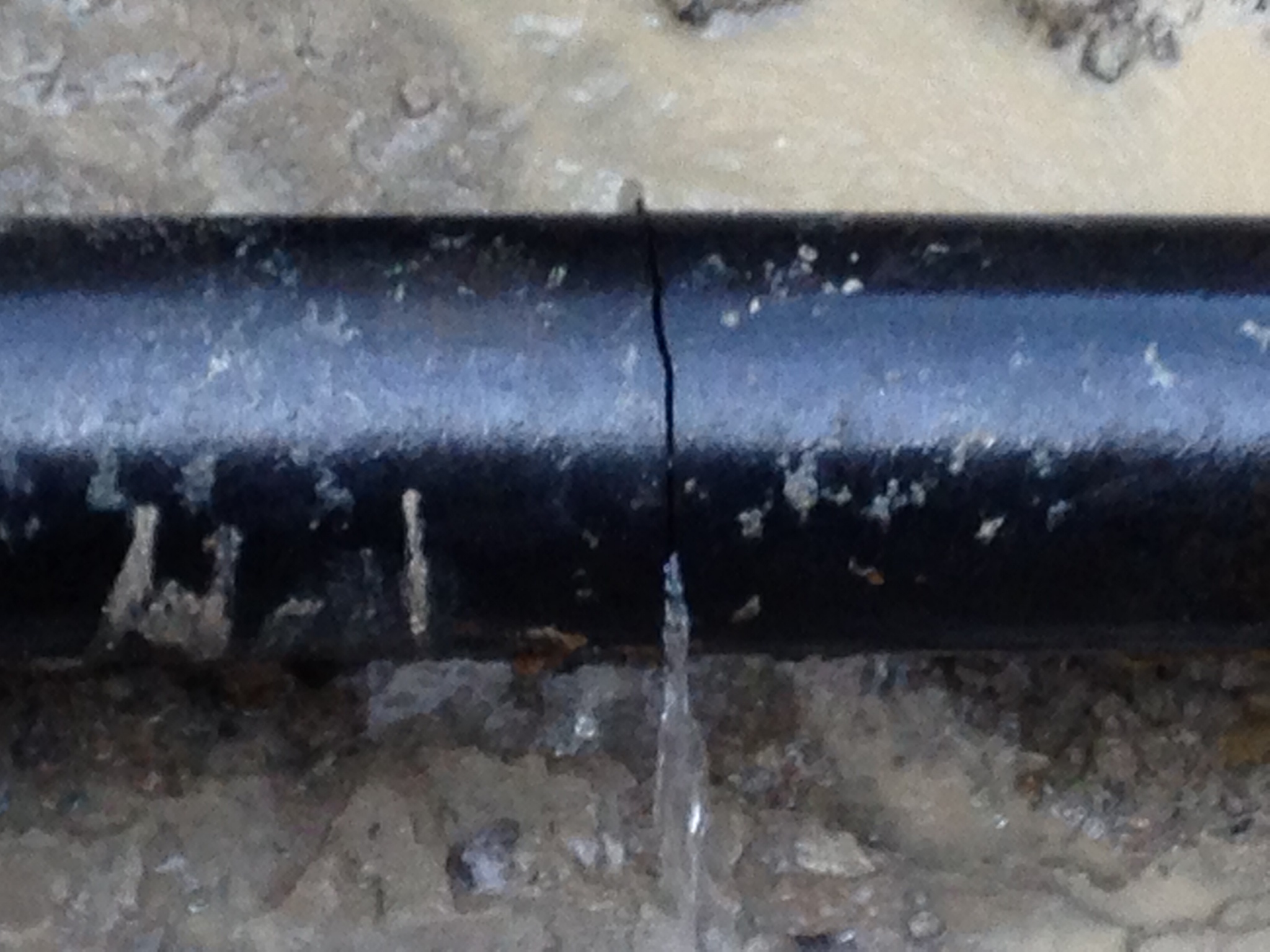 Circumferential cracks typically happen due to older styles of bedding materials such as large rocks and pieces of timber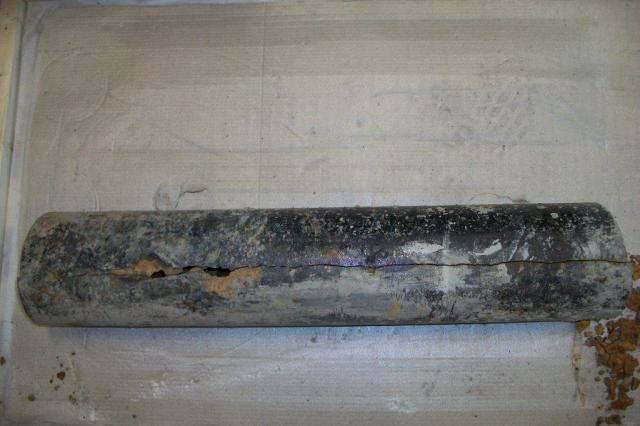 Longitudinal cracks may occur because the pipe is stressed by bending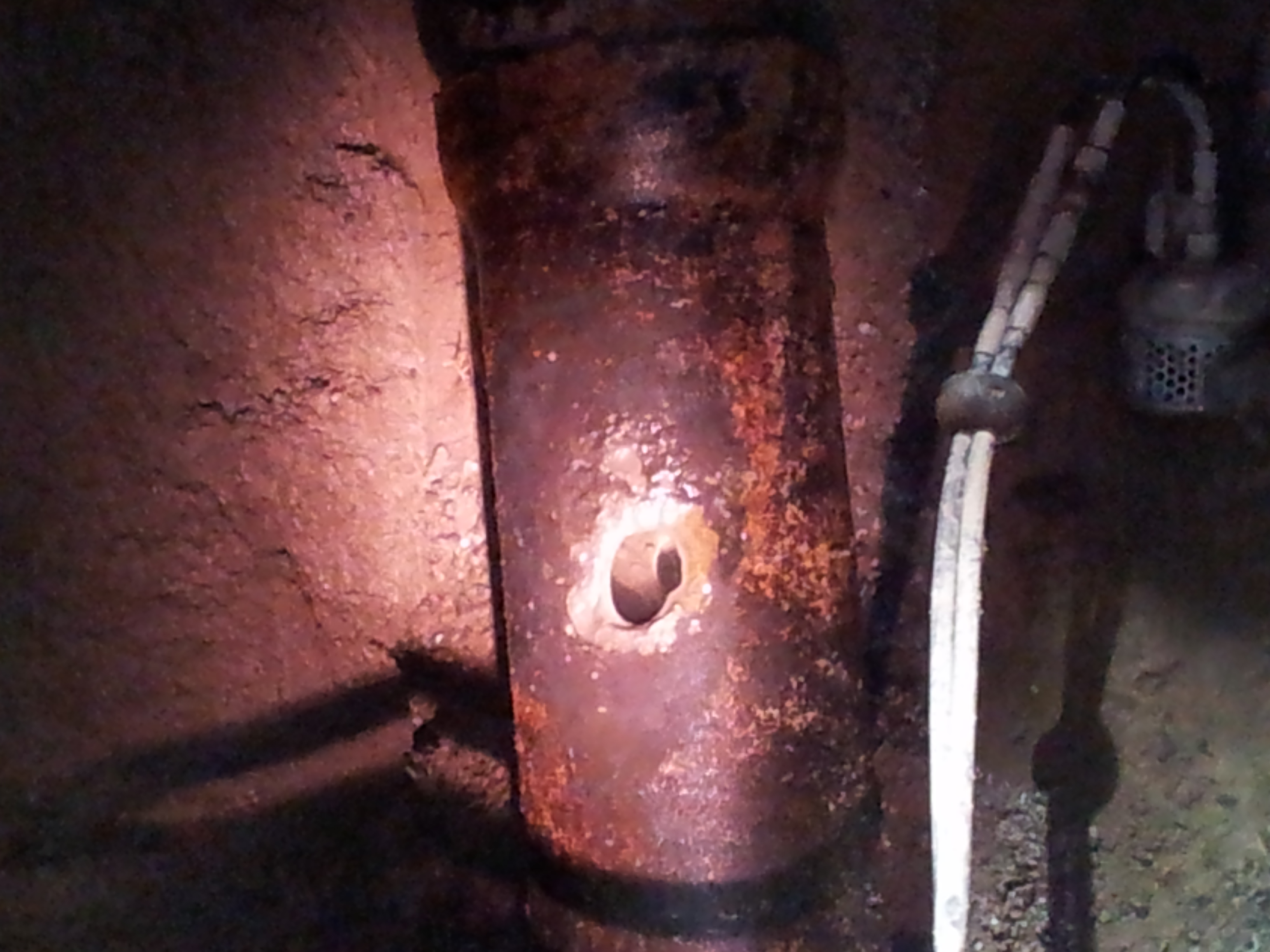 Corrosion holes can be internal or external to the pipe, or both
Preventing breaks
Through proactive infrastructure renewal programs, Utilities Kingston identifies priority areas and takes steps to responsibly renew aging infrastructure. Over the last five years, Utilities Kingston has completed the following work to help ensure the continued reliability of municipal infrastructure:
Replaced over 20 kilometres of cast-iron water mains with tough new plastic pipes less prone to leaks and bursts.
Structurally relined 20 kilometres of water main to create a tough new "pipe-within-a -pipe" (see sample shown at right) that ensures the reliability of the pipe for up to 50 additional years.
While we do our best to stop breaks from happening in the first place, they can't always be prevented. Read on to learn how we respond to the site of a water main break.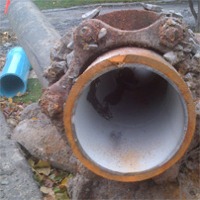 Repairing a break
We recognize that it can be a lengthy, disruptive process to safely and effectively repair a water main break. We appreciate our customers, who are typically very patient and understanding.
Here's what's involved:
Usually, the call comes into our control centre. Operators determine the priority of the leak and dispatch water distribution crews as well as an underground utility locator.
Securing the site
The area is made safe, traffic control is set up, and any high traffic areas at risk of icing are salted and sanded.

Regulated traffic control set ups help protect the safety of our employees, the public and utility infrastructure
Utility locators attend the site to locate underground water, sewer, gas, electricity and telecom infrastructure. They mark the location of infrastructure to prevent excavators from hitting and damaging this equipment.
This step of the process can be time consuming. Depending on the geographical location of the break, it's necessary for up to five utility companies to complete their locates.
Finding the leak and isolating the pipe
Pin-pointing the exact location of the break can involve visual inspection, listening with correlating equipment, and excavating.
Once the source of the leak is found, crews work with control centre operators to determine the best way to isolate the pipe from the system, so that water can be shut off while impacting the fewest number of customers possible. Crews operate valves to isolate the pipe and shut the water off. They'll also make every effort to let our customers know that the water will be off, by going door-to-door and speaking to residents personally, where feasible.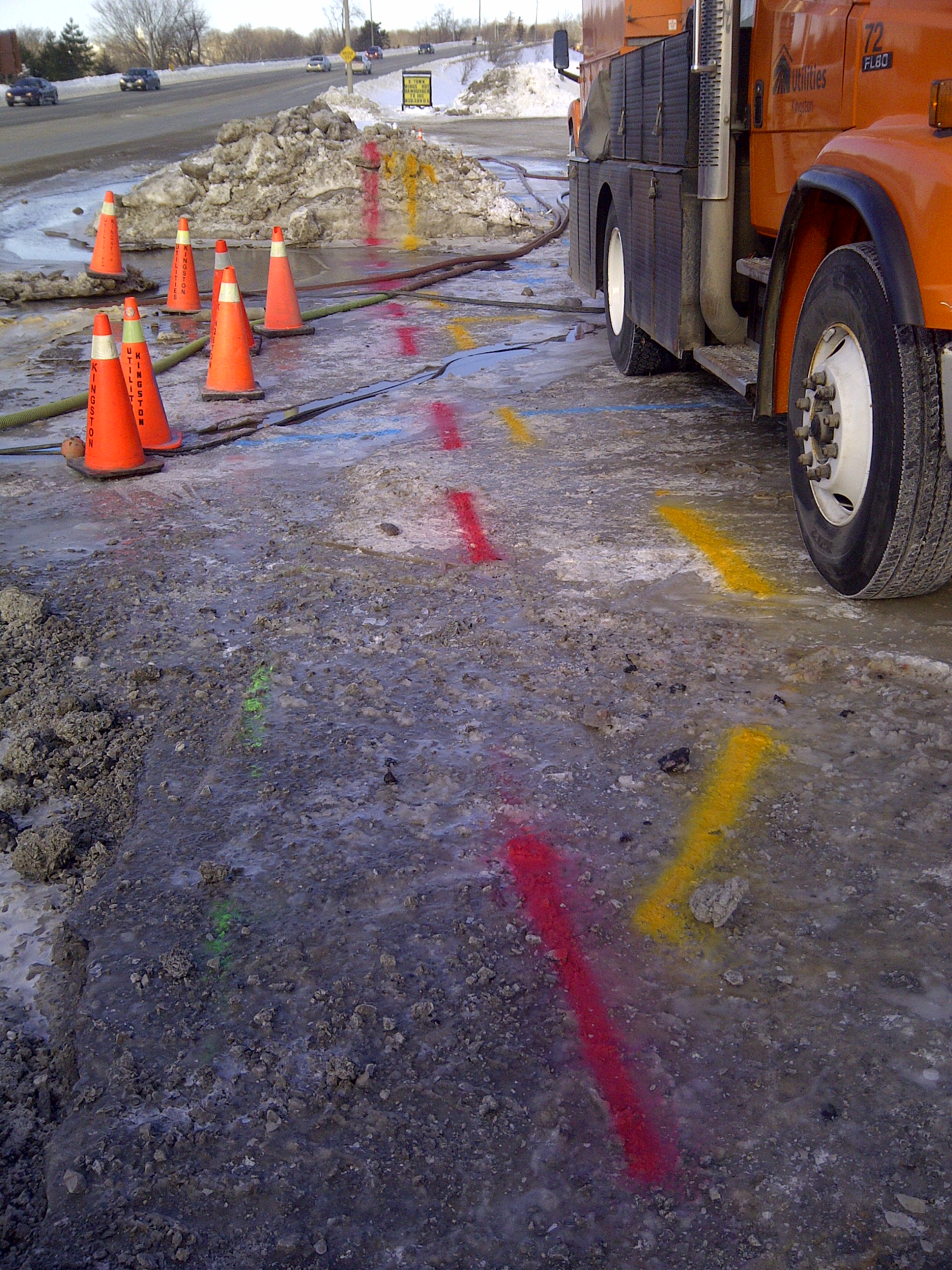 This picture captures the location of water (blue), sewer (green), gas (yellow) and electric (red) underground infrastructure
Repairing the pipe and restoring water services
Once the break is exposed, crews repair it. This step of the process involves several challenges including:
Adverse weather conditions, as breaks often happen during extreme cold.
The proximity of underground sewer, gas and electricity infrastructure.
Ensuring employee health and safety, especially because breaks often happen at night, in the coldest temperatures.
In this example, a stainless steel clamp is used to repair a circumferential crack on a six inch cast iron pipe.
Once the repair is complete, we'll fill the hole and plan for restoration. Before the water is turned back on, the pipes are flushed with chlorine to ensure a high level of drinking water. The water is tested to ensure it is safe.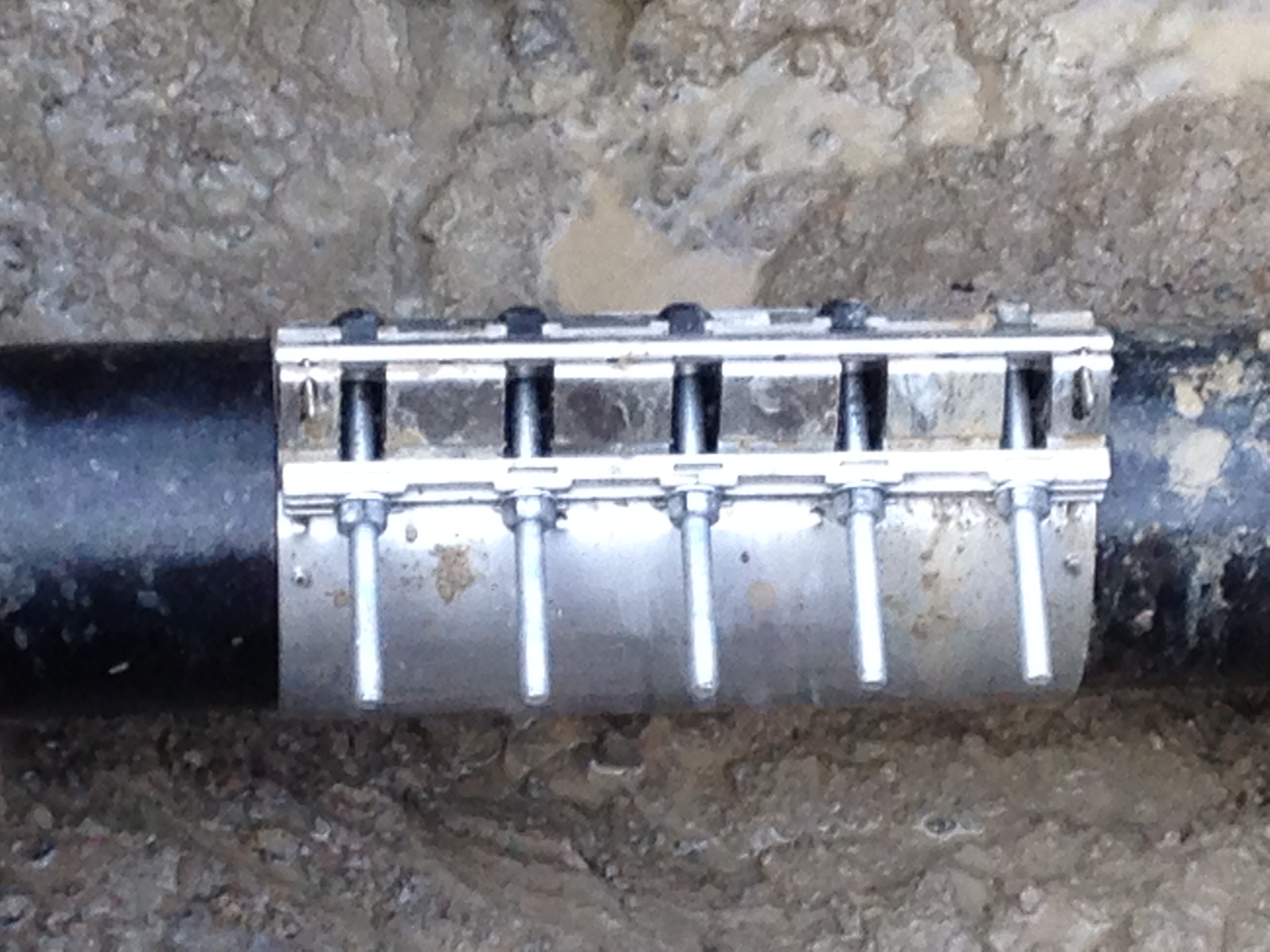 We really appreciate the efforts of our crews, who often work overnight in sub-zero temperatures to help ensure a reliable supply of water for the rest of us. Thank you!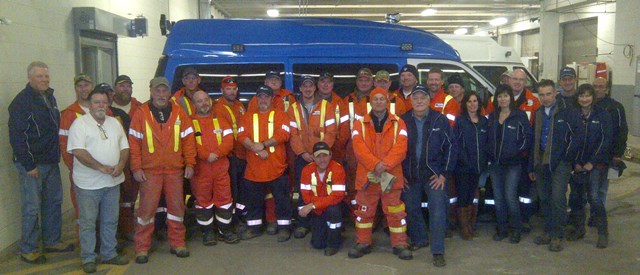 Once your water is turned back on, you might notice the tap water is discoloured. This is normal, as work on the distribution system can disturb deposits in the pipes. The water is safe, just flush your cold water tap until it clears.
Meanwhile, in the control centre
While the work on the side of the road is highly visible, the behind-the-scenes work in the control centre is less so, but just as important. To assist with water main breaks, control centre operators:
Take customer calls that come into dispatch.
Help organize crews and utility locators.
Log the operation of hydrants and valves.
Coordinate with municipal services including transit, fire and police.
Help communicate to the public by issuing social media updates, updating the automated voice recordings and sending information to municipal groups.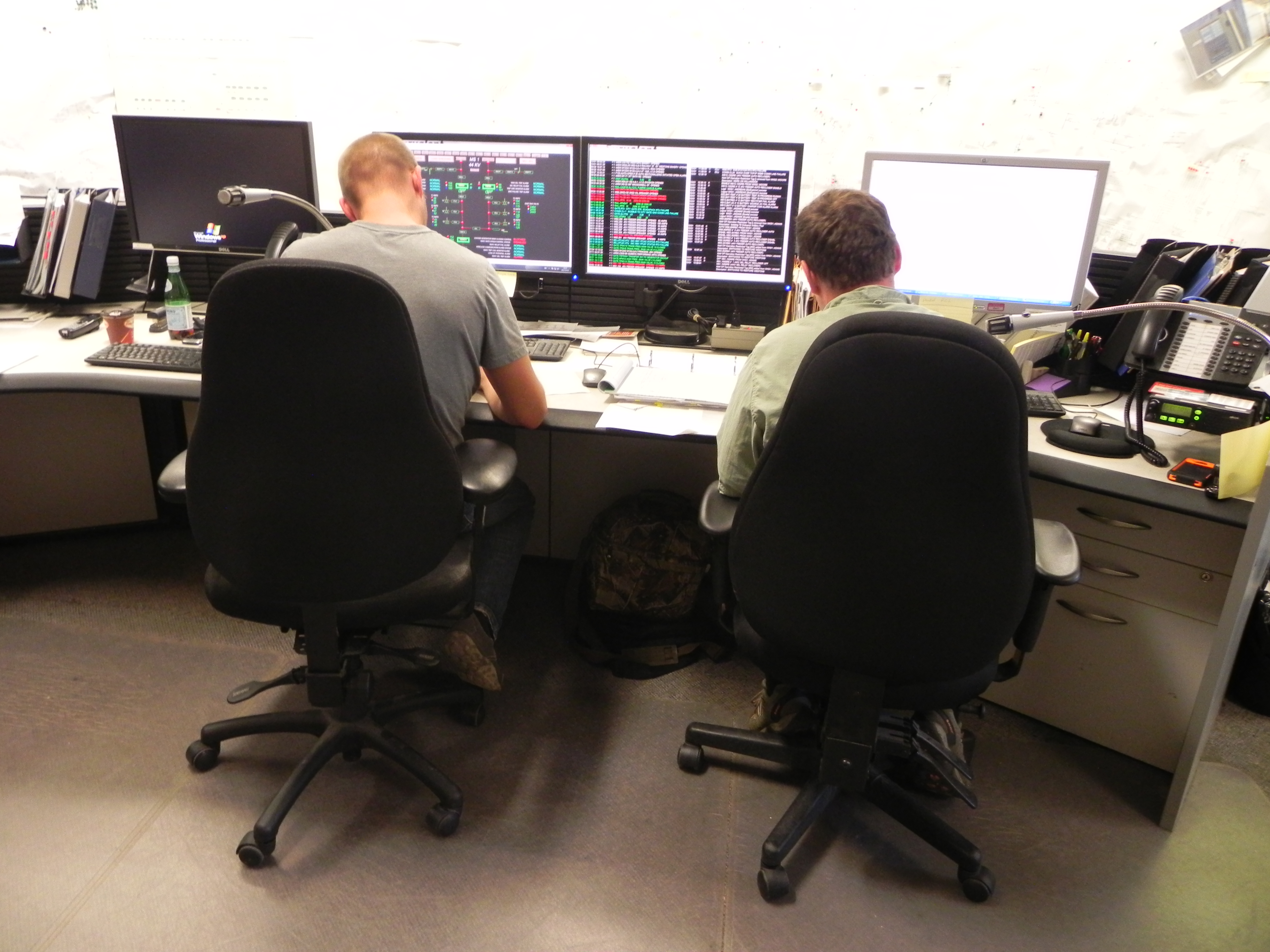 Report a potential water main break
Typical signs that there might be a water main break in your area include:
Water bubbling up from the ground and running down the side of your street.
Your sump pump is constantly running.
Reduced or low water pressure.
Noise or vibration at the private water service. Listen here to an audio file of the noise you might hear.
If you think there's a water main break, please report it by calling our 24 hour line at 613-546-1181, and thanks for helping.
Avoid driving through flooded areas:
Avoid driving through puddles as they can hide a pothole that could damage your vehicle or its suspension, or flatten a tire. The spray of water could obstruct the vision of adjacent motorists and result in a collision, cause harm to nearby pedestrians or drown your engine, causing it to stall. Water can also make your brakes less effective.
Avoid driving on flooded roads, water may prevent your brakes from working. If you must drive through a flooded stretch of road, test your brakes afterward to dry them out. Test your brakes when it is safe to do so by stopping quickly and firmly at 50 km/h. Make sure the vehicle stops in a straight line, without pulling to one side. The brake pedal should feel firm and secure, not spongy, that's a sign of trouble. If you still feel a pulling to one side or a spongy brake pedal even after the brakes are dry, you should take the vehicle in for repair immediately.
Obey road closures and signs and using appropriate detour routes.
Get more information from the Ministry of Transportation.