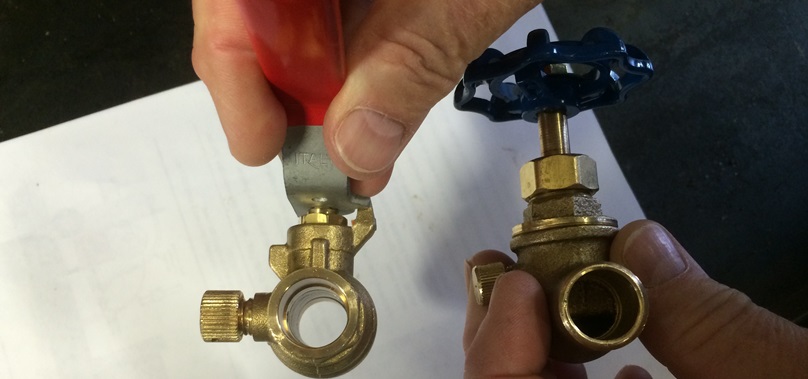 Property owners and tenants - what to do
If you think your water service line is frozen
Call Utilities Kingston at 613-546-1181 immediately. Crews will respond during business hours, but that phone number is answered 24/7.
Your responsibilities
Property owners are responsible for the maintenance and repair of plumbing located on their property, including the private water service line, water shut off valve (before the meter) and internal plumbing. Refer to the Frozen Water Service Policy (WD-P-01).
To protect their property, they also need to take steps to prevent a water service or temporary service connection from re-freezing.
Know the risk factors that contribute to water service lines freezing.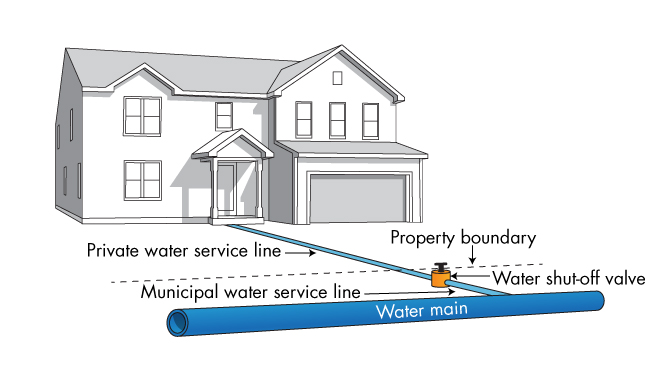 A home's water service line, showing private and municipal responsibilities
Thawing private water service lines
Thawing a frozen private water service line or private water main is the owner's responsibility. Refer to the Frozen Water Service Policy (WD-P-01) and our page on related costs.
If you suspect your water service line is frozen, call Utilities Kingston at 613-546-1181 and we will visit your home to assess the situation. The owner or occupant, as applicable, will be responsible for all associated costs.
Plumbing modifications
Sometimes it's necessary to modify the plumbing inside the building in order to meet the requirements of thawing equipment.
It's the owner's responsibility to get and pay for a licensed plumber to complete any plumbing modifications necessary to facilitate the work and to reconnect internal piping after the work is complete.
Please consult with us before having any plumbing modifications made to ensure they will meet the requirements for the thawing equipment that will be used.
Typically, a full flow-through ball valve connected to the underground service piping (where it enters the building) and a short length of copper pipe (connected to the downstream side of the ball valve) is required.
View our video to learn more about the plumbing modifications you may need to make.
Maintaining the restored supply of water
After the supply of water has been restored, the building owner is advised to maintain a constant flow of water through the water service or temporary service connection. This will help prevent the water service from re-freezing.
Otherwise, the owner will be responsible for the costs to restore the supply of water, a scenario we'd really like to avoid.
Where a frozen water service has been thawed and the occupant has been advised to maintain a constant flow of water, Utilities Kingston will remove, or render inoperative, the water meter from that property. Billing for water and sewer services will be based on a fixed flat rate charge until we advise the occupant to discontinue the constant flow of water and reinstate the water meter.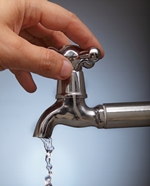 Vacant and unheated premises
Protect your property! If you're vacating your building or there is no heat to the building, you, as the building owner, are responsible to take steps to prevent pipes from freezing.
Shut off the water supply from within the premises and drain the piping. Additionally, contact us at 613-546-1181 so that we can turn off the curb stop water shut-off valve. We'll turn it back on only at your request and in your presence. Note there is a fee for this service.
What to do if your water service line freezes
If you think your water service has frozen, call Utilities Kingston at 613-546-1181 immediately. That phone number is answered 24/7.
Ensure you have a ball valve installed prior to the water meter (instead of a gate valve). Our thawing equipment only works with ball valves, so it is important to have this installed by a licensed plumber. Please note, the cost to have the valve installed is the responsibility of the building owner.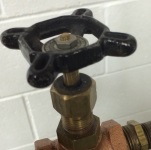 The gate valve shown in the picture on the left will not work with thawing equipment.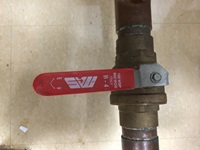 The image on the right shows the preferred valve (a ball valve).


Crews will address frozen water services in the order of calls received. Priority may be given to hospitals and health care facilities, residents with special health needs, schools and daycares, and properties that cannot be supplied through a temporary service connection.
Additional tips
While you are without tap water: in addition to obtaining bottled drinking water, consider bringing in buckets of water from neighbours to use for flushing. Some of our customers have been bringing in buckets of snow to melt at room temperature. While this water is not safe for drinking or bathing, it can be used for flushing toilets.
Once your water service is thawed, keep a constant pencil-thin stream of water flowing from a cold water tap until further notice. Consider placing a sign on the tap to remind occupants to leave the water running.
View additional tips to prevent plumbing from freezing.
Be prepared that when your water service is restored, some water may enter your basement. We suggest keeping a mop and some rags handy.