Accurate, reliable water metering equipment
Is your water meter being changed? Here's what you need to know
It's important that our customers receive accurate bills for the amount of water consumed by their household or business. Reliable metering equipment is critical to ensuring our customers continue to receive accurate bills.
As water meters approach the expected end of life, Utilities Kingston replaces them with a new meter to ensure we accurately record the consumption of water at the customer's premises. As well, we'll install an e-coder receiver transmitter (ERT) on your meter. This technology is used to transmit data from utility meters over a short range so staff can collect meter data without a worker physically inspecting each meter.
We thank our customers for their support of our water meter replacement project. Since October of 2015, we have managed a program to replace over 16,000 end-of-life water meters in Kingston, ensuring the continued accuracy of metering equipment.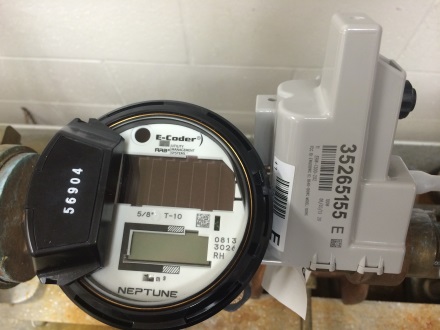 Utilities Kingston is replacing end-of-life water meters with new meters (left) and e-coder transmitter receivers (right)
What's happening in 2022
In 2022, Utilities Kingston will continue with our proactive program, working with Neptune Technology Group to replace 3,532 water meters throughout the year. Meters are selected for replacement based on age.
Not all of the homes and businesses on a street may be impacted. If your building is included, you will receive a notice in the mail. Follow the instructions to book an appointment for the water meter change.
Key information
There is no cost for the equipment or installation.
A Neptune Technology Group certified technician will need access to the inside of your home or business to complete the installation.
Technicians will always be in uniform, carrying photo identification.
The work typically takes 30-90 minutes to complete.
Morning or afternoon appointments are available, Monday to Friday, between 8 AM and 8 PM, and Saturdays from 9 AM to 6 PM.
An adult, 18 years of age or older, must be present during the installation, and must be available for the entire appointment duration.
There must be easy access to your existing water meter and the shut-off valve. Before your appointment time, have a licensed plumber repair inoperable valves.
An opening of approximately 16 by 16 inches is needed if the meter/valve is behind a wall, partition or covering.
Your manual reading device will be upgraded to a new ecoder receiver transmitter (ERT) device. The upgrade will require our technician to run a new wire connection from the transmitter to the meter. Normally this can be completed in the same location as the meter.
This program is mandatory for all homes and businesses.
Contact
If you are part of the 2022 program area, you will receive a notice in the mail. Follow the instructions to book an appointment for the water meter change.
You can learn more about to expect with the water meter replacements program by calling Utilities Kingston customer service at 613-546-1181, Monday to Friday, from 8 AM to 4:30 PM.
About the solar panel
Utilities Kingston is installing Neptune Technology Group Inc. E-Coder Meters and ERTs. These meters come with a range of features that will help further improve customer service and operational efficiencies in the future.
The digital display on the meter is powered using the solar panel. To read the data display, shine a bright LED flashlight over the meter register's solar panel.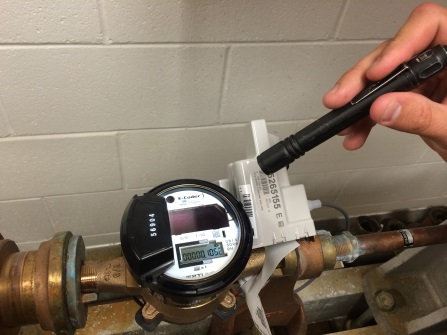 How to activate the LCD display
Related information
Leaky plumbing in your home can damage your property, decrease your home's water efficiency, and increase your home's water consumption and utility bill.
Did you notice a sudden increase in your water consumption and bill? You might have an internal plumbing leak. While internal plumbing is the property owner's responsibility, we're providing this information to help our customers and promote water conservation.
Learn how to detect, correct and prevent leaks!