Prevent property damage and conserve water
Know how to identify a potential water service leak
Knowing how to identify a water leak and what to do about it can protect properties in your neighbourhood (including your own), conserve treated tap water and help us provide efficient utility services. Learn what a leaking water service is.
Here are some warning signs that you might have a water leak on your property:
Reduced or
low water pressure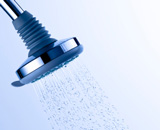 Sump pump
constantly running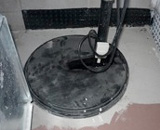 Noise around
the water meter


click above to listen to a leak noise
Vibrations
at the meter pipe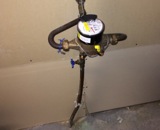 If your meter is running when you're not actively using tap water, the leak is likely inside your building. If this is the case, contact a licensed plumber.
Don't assume we know about water leaks. If you suspect a water leak on your property, please:
Rule out noise from surrounding appliances.
Determine if the leak is coming from inside your property. If so, contact a licensed plumber.
If the leak is not clean water, for example, a sewer blockage or flooding, please visit our web page on basement flooding.
If you have determined that water may be leaking from your water service outside on your property, of if you're not sure, then report it by calling 613-546-1181 ext. 2151.
Who is responsible?
Utilities Kingston ensures the repair and maintenance of the 560 kilometres of water mains that supply nearly 40,000 homes and businesses. Homeowners however, are responsible for the pipe that supplies their individual properties.
How we respond
We wish it was as simple as sending an operator straight out to fix the leak, but at times, it isn't.
If a lot of water is escaping from the leak, or it's having an impact on our customers' water supply, it could be repaired the same day. Otherwise, we'll investigate within three working days and aim to fix the leak within the following 30 working days. Occasionally, it can take us longer than we'd like to carry out the repair, as we need to complete a number of checks and tests.
We're very grateful when customers let us know about a leak. Control room operators will determine the priority of the leak and dispatch crews to conduct a leak survey in your area.
The survey includes:
Visual
inspection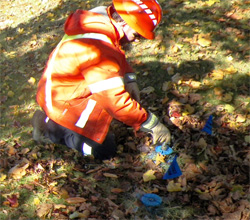 Listening with
acoustic technology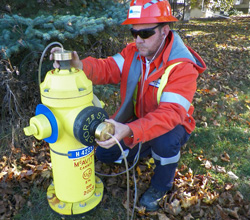 Testing water
samples for chlorine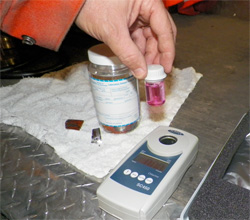 The presence of chlorine indicates that it is treated water. For example, water samples may be taken from your sump well, a location where we do not expect to find chlorinated water.
If we find a water leak on your property, our certified water distribution operators will talk with you about the next steps to take.
If the leak is on the municipal side, we'll turn off the water supply and dispatch a crew of licensed operators to repair it as quickly as possible.