Tips to stay safe during extreme weather this weekend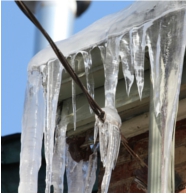 With freezing rain, snowfall and colder temperatures forecast into the weekend, we would like to remind the public about the following safety tips:
Report utility issues to our 24-hour emergency line at 613-546-1181. Follow @UtilitiesKngstn on Twitter for public safety and outage information, and check our outage map for updates at www.UtilitiesKingston.com/Outages

Freezing rain and high winds can bring down power lines.

If you see a downed power line or tree branch that has fallen on a power line, always assume it still has electricity flowing through it, even if it isn't sparking.
Stay back at least 10 metres or 33 feet (that's about the length of a school bus) and don't touch anything metal (such as guard rails) in the area.
Report it immediately by calling 911 or our emergency line at 613-546-1181. This line is answered 24 hours a day, seven days a week.
If a power line falls on your car, the car and the ground around it may be electrified and you could be killed if you get out of the vehicle. Stay inside until the utility workers tell you it's safe to get out. Tell everyone to stay back 10 metres or 33 feet.
Keep snow and ice from building up on outdoor water, gas and electrical equipment, such as utility meters and outdoor exhaust vents. We also appreciate community members who help keep fire hydrants and catch basins cleared of snow and ice – thank you!

Get more winter safety tips

.

Never attempt to clear ice from around electrical lines yourself. Keep your eaves troughs free of debris so water runs safely away before it freezes. Ice can build up where overhead electrical service wires attach to your home—a dangerous and costly situation. Consider that the root of the problem may be poor attic insulation.

Install and obey working

carbon monoxide alarms

and know

how to detect a natural gas leak.

Know the steps to take to protect plumbing and water service lines from freezing with information from our website.
Basement flooding can occur at any time, especially during times of rapid snowmelt and heavy rainfall. Know the steps to take to help protect your property.
Kingstonians concerned about the safety of a utility serviced by Utilities Kingston can call the 24-hour line at 613-546-1181.
For more information on keeping your home and family safe, visit our webpage about winter safety.