Utilities Kingston is taking COVID-19 precautions while completing work in your neighbourhood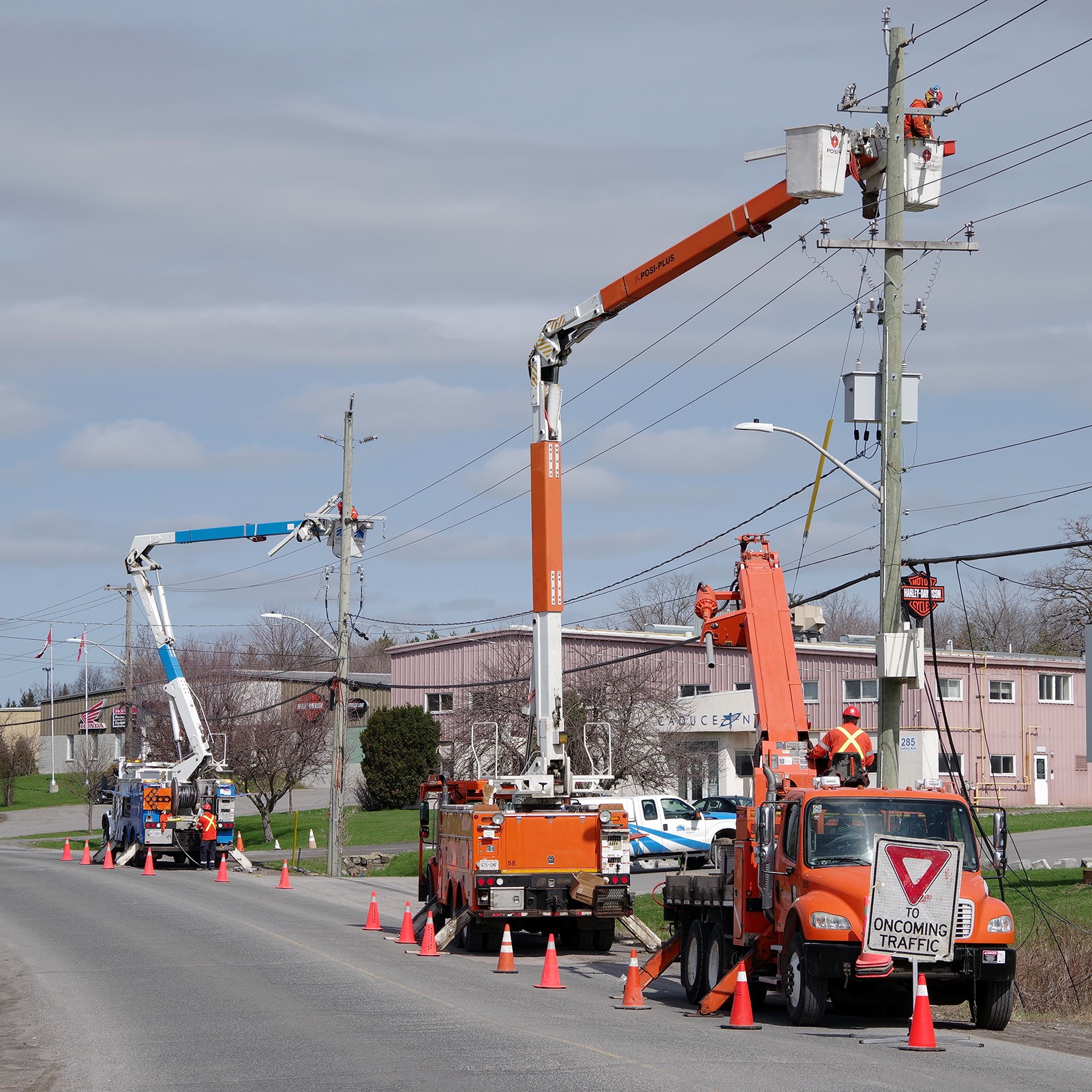 Home and property-owners: see if we are planning to conduct essential multi-utility capital construction in your neighbourhood this year. Use the interactive online map.
"This map shows the capital work Utilities Kingston is doing to ensure the continued reliability of core utility services," says Jim Keech, President and CEO of Utilities Kingston. "It's a great way to see how planned work may affect you and your neighbourhood, and to plan for appropriate physical distancing while our employees or contractors are at work. Enter your address to see when, where and what kind of infrastructure work we are completing."
A full list of planned projects follows these notes on where to get information, planning ahead and COVID-19 precautions.
Where to get information
The map

offers a detailed look at Utilities Kingston improvements being made to local water, wastewater and electrical systems in 2020.

Follow @utilitieskngstn on Twitter for up-to-the minute updates.

If Utilities Kingston is planning work in your neighbourhood that could disrupt services to your property, staff will make every effort to mail a direct notice to your property in advance.
Plan ahead
Have plans to make improvements to your property? Schedule them to consider planned construction and reduce disruption to your property and services.
COVID-19 precautions
As we carry out work in your neighbourhood, Utilities Kingston and our contractors remain committed to the health and safety of our workers and the public.
Here are the actions we are taking:
Adhering to all relevant

safety guidelines released by Ontario

to protect workers, customers and the general public from COVID-19.

Not entering customer premises (unless in an emergency situation).

Asking you to please practice physical distancing by keeping at least two metres away from our employees and contractors. If you have travelled or felt ill over the last 14 days, do not approach our workers (better yet, stay home).
Read more about COVID-19 and your utilities.
Questions or concerns can be directed to customer service, by calling 613-546-0000, Monday to Friday from 8 AM to 5 PM.
Planned work
Here's a summary of work planned for the spring, summer and fall of 2020 (only larger projects appear on the above-listed map):
Water and wastewater
Renew

water and wastewater infrastructure on

Victoria Street

(Princess to Concession)

and

on

Kingscourt Avenue

(First to Third)

, to ensure

continued safe and reliable utility services. Collingwood Street (from Earl to Couper) will also be completed, as part of a joint-infrastructure program with the City of Kingston.

Redirect the King-Portsmouth sewage pumping station for improved operating efficiency and construct a new interconnecting water main, in a

multi-year water and wastewater project. The area impacted is King Street West and Union Street from the Front Road bridge to Sir John A. Macdonald.

Re-route water and wastewater servicing and increase capacity

on

Glengarry Road (Indian to Portsmouth), Portsmouth Avenue (Glengarry through Princess to Howard) and the Easement from Portsmouth to Parkway. This is a joint reconstruction project with the City of Kingston.
Water
Replace aging watermains on Wright Crescent to improve capacity for fire protection.

Add cathodic protection will be added to metallic water mains to increase the life of this infrastructure on Woodbine Road (Collins Bay to Westbrook) and Sydenham Road (Sunnyside to Mildred).

Improve water distribution to ensure continued water quality, in the Calvin Park neighbourhood via water main looping.

Line end-of-life watermains in the west end of Kingston, including Bayridge and Collins Bay areas. A section of watermain on Sydenham Road will be completed in 2020 or 2021.

Replace end-of-life municipal water service laterals on Aylmer Crescent to improve operating efficiency by reducing system water loss.
Wastewater
Replace the aging Days Road Sewage Pump Station in LaSalle Park to increase hydraulic capacity.

Separate combined sewers

to reduce combined sewer overflows. This work is taking place on College Street (from Union to Hill), Napier Street (from Hill to Earl), Toronto Street (from Earl to Johnson), and Frontenac Street (from Earl to Johnson).

Line end-of-life sewers using

Cured-In-Place-Pipe (CIPP) trenchless technology to renew aged sewer mains by installing a liner in the host pipe. The pilot will begin in the Kingscourt neighbourhood, to allow for continued reliable and safe service.

Progress on the multi-year expansion of the Cataraqui Bay Wastewater Treatment Plant for

renewed facility infrastructure and increased treatment capacity for fire protection.

Clean and inspect sanitary sewers in the Portsmouth, Calvin Park and Polson Park areas, to ensure continued service reliability.
Electricity
Continue the large multi-year electrical upgrade of

Municipal Substation No. 1 to improve

service reliability and increase load capacities to customers in the downtown core.

Provide 44 kV feeder teleprotection by installing fibre optics at the Hydro One Frontenac Transformer Station, for increased service reliability.

Replace end-of-life poles:

Bath Road (Grenville to Armstrong)

HWY #2 (Niagara to Princess Mary)

MacDonnell Street (Brock to Dundas [includes cable replacement])

Johnson Street (Roden to Portsmouth) –relocate pole line from backyard to City right-of-way

Dalton Avenue to St. Remy Place

Replace 44 kV switching for worker protection

:

Palace Road near Carruthers

Portsmouth Avenue near Calderwood

Johnson Street at Palace

Upgrade end-of-life underground equipment:

Cable installation to the transformer vault on Victoria Street at Princess

Electrical Underground Distribution Expansion to support local development
For more information, contact customer service, Monday to Friday, from 8 AM to 5 PM by calling 613-546-0000.