Is water main relining coming to your neighbourhood?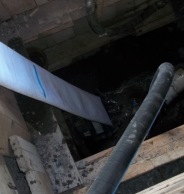 Utilities Kingston has awarded the 2019 contract for water main relining to Fer-Pal Construction Ltd. Work starts in early April, with completion by the middle of November.
Relining water main allows us to rehabilitate aging pipes while minimizing service interruption and nuisance to residents. Instead of digging up the road along the entire length of the water main, Fer-Pal will excavate 'pits' to access the main at strategic locations and work from there.
The relining process involves cleaning the inside of the mains and then inserting a felt liner that is coated with a resin. This resin compound is then cured-in-place to form what is essentially a 'new pipe within a pipe'. We'll also replace aging infrastructure in the area, including water valves and fire hydrants. This helps to ensure the continued safety and reliability of the water distribution system.
The 2019 program involves relining approximately 3,240 meters of water main, primarily in the residential area of Strathcona Park, and the Sunnyside and McIvor Road area. The project also includes relining a commercial area of Bath Road and some water main looping in Strathcona Park (to adjoin two dead-end water mains for improved water distribution).
Water main relining will take place at the following locations:
Strathcona Park:
Jane Avenue, from Avenue Road to Kings Gate Place

Elizabeth Avenue, from Avenue Road to Jane Avenue

McMahon Avenue, from Glencoe Crescent to McMichael Street
Bath Road Area:
Bath Road, from just west of Days Road to approximately 250 metres east of Gardiners Road
Sunnyside and McIvor Road Area:
Mildred Street, from Sunnyside Road to Sydenham Road

Jesse Crescent, from Sydenham Road to end

Audrey Street, for Jesse Crescent to Floyd Avenue

Floyd Avenue, from Mildred Street to Sunnyside Road

Sydenham Road, from McIvor Road to Sunnyside Road

McIvor Road, from Sydenham Road to Cataraqui Community Centre
Water main looping (open cut – not trenchless) will take place at the following locations hydraulic flow in the area:
New water main loop connection, from Gretna Green to Indian Road, through the existing pathway.

New water main loop connection, from the Stormont Avenue cul-de-sac to Westmoreland Road, through O'Connor Park.
Watch for notice of upcoming work
Residents in the areas listed above should watch for notices of upcoming work from Fer-Pal. This company has been contracted by Utilities Kingston to reline water mains and replace aging infrastructure, including water valves and fire hydrants.
The notices will be delivered at least 48 hours before work is set to begin and will include details on what to expect.
What to expect if work is taking place in your area


Your house will be hooked up to a temporary potable water supply system. You are not billed for the water you use while hooked up to the temporary supply, but the monthly service charge remains in effect.

Water main relining may result in water service issues such as reduced pressure and increased water temperature. Our apologies for the inconvenience. If your water is warm, run your tap until the water is cold. If the issue doesn't improve, contact us as described below.

Utilities Kingston and contractor staff always carry identification. Homeowners should always ask to see it.

Utilities Kingston will require connection to an exterior hose bib (or other connection).

If your water meter is reaching the end of its life, it will be replaced.

Minor traffic interruptions should be anticipated around access pits and where work is being conducted.
Contact


If you are in the 2019 relining area and have concerns about the project or your water service:
Monday-Friday, from 7 AM to 5 PM, contact Fer-Pal at 416-742-3713.

Outside of these hours, contact Utilities Kingston at 613-546-1181.

For further information, contact customer service, Monday to Friday, from 8 a.m. to 5 p.m., at 613-546-0000. Watch for updates on this work on the

water main

relining projects page

.