An update on water and sewer project on Front Road and King Street West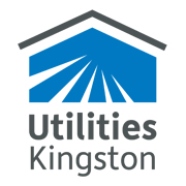 Utilities Kingston can confirm that this construction work, being conducted by EBC Inc., has been temporarily halted. The contractor has encountered site conditions that they did not anticipate.
Utilities Kingston is working with our design consultant (WSP Canada Inc.) on solutions for technical and contractual issues. It is our goal to have EBC restart the work as soon as possible. If work cannot restart before winter, we will need to discuss and map out the steps necessary to ensure the road and bridge are reinstated to regular traffic flow.
We understand the frustration and delays this stoppage has created for commuters in the area, and the toll it is taking on residents. Cyclists and pedestrians have been especially impacted, and we apologize for the inconvenience.
All parties are concerned and interested in finding a solution. Here are the actions we have taken:
Applied for and received an updated Permit to Take Water (PTTW) to allow for additional volumes of water taking. This is to assist the contractor in developing a work methodology for the construction project.

Undertaken additional review and analysis of traffic control plans, on behalf of the contractor, to assist in implementing a safe and efficient traffic control plan for the intersection of Country Club Drive and King Street West. Maintaining safe vehicle, bicycle and pedestrian traffic flow through the intersection and construction site is a priority in our reviews.
Next steps
The updated PTTW is contingent on EBC providing a methodology and dewatering plan, to the Ministry of Environment, Conservation and Parks (MECP), for review and approval.
Utilities Kingston is committed to communicating openly and regularly with our customers and community. More information will be available at a public information session, being planned for later in September.
Safe traffic flow is a priority
Due to the narrow lanes, this is a "Shared Lane" and "No Passing" Zone. Do not pass cyclists in this reduced lane area.

The construction zone has been posted as 40 kph.

Reduce your speed when encountering cyclists.

Leave a safe following distance should a cyclist need to stop suddenly.
About the project
Utilities Kingston is embarking on a large, phased, multi-year project to improve water and sewer infrastructure in the community.
This project will redirect sewage from the Portsmouth Pumping Station and interconnect a trunk water main. It is expected to save energy, reduce sewer overflows, create capacity to support downtown development, and improve operations and system performance.
The current phase of the project, Phase 2A, awarded to EBC Inc., affects areas along Front Road and King Street West from Sand Bay Lane (Front Road bridge) to Country Club Drive. Learn more from our project page.