Freezing rain: know what to do in a utility emergency
This article was published more than 6 months ago. Some information may no longer be current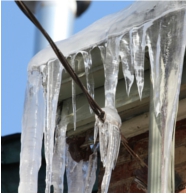 Environment Canada has issued a freezing rain warning for our area. We're sharing these tips to help protect your property during rain, freezing rain and milder temperatures.
Report utility issues in our service areas to our 24-hour emergency line at 613-546-1181. Follow @UtilitiesKngstn on Twitter for public safety and outage information, and check our outage map for updates at www.UtilitiesKingston.com/Outages.
Know your electricity provider - and who to contact in an emergency
We want to ensure that we are entirely focused on safely and quickly restoring services to our customers. Please assist us by knowing - and calling - your correct service provider.
Kingston is primarily served by two electricity providers – Utilities Kingston and Hydro One. A small number of homes and business in Kingston East and north of the 401 receive their services from Eastern Ontario Power. If you are an Eastern Ontario Power customer, call 1-844-601-9473 in case of a power outage.
The following PDF Map outlines the areas served by these three providers. Please review it and get familiar with who to contact in your area.
Kingston's electricity providers - service areas
Powerline safety
Freezing rain and high winds can bring down power lines.
If you see a downed power line or tree branch that has fallen on a power line, always assume it still has electricity flowing through it, even if it isn't sparking.
Stay back at least 10 metres or 33 feet (that's about the length of a school bus) and don't touch anything metal (such as guard rails) in the area.
Report it immediately by calling 911 or our emergency line at 613-546-1181. This line is answered 24 hours a day, seven days a week.
If a power line falls on your car, the car and the ground around it may be electrified and you could be killed if you get out of the vehicle. Stay inside until the utility workers tell you it's safe to get out. Tell everyone to stay back 10 metres or 33 feet.
Keep ice from building up on utility equipment
Keep snow and ice from building up on outdoor water, gas and electrical equipment, such as utility meters and outdoor exhaust vents.

Never kick or hit the gas meter or its piping to break away built-up snow or ice.
Use a broom to gently clear snow and ice from this equipment. If you have trouble gently removing ice, contact Utilities Kingston.

We appreciate community members who help keep fire hydrants and catch basins cleared of snow and ice – thank you!

Ice can build up where overhead electrical service wires attach to your home—a dangerous and costly situation. Keep your eaves troughs free of debris so water runs safely away before it freezes around electrical lines. Never attempt to clear ice from around electrical lines yourself. Consider that the root of the problem may be poor attic insulation.
Get more winter safety tips from our website.
Natural gas safety
Install and obey working carbon monoxide alarms and know how to detect a natural gas leak. If your carbon monoxide alarm sounds, ensure all people and pets leave the home and call 911 when you are safe.

Take steps to help prevent basement flooding
Basement flooding can occur at any time, especially during times of rapid snowmelt and heavy rainfall. Consider these tips:
Check your sump pump for proper operation and follow the manufacturer's maintenance recommendations. For example, you may wish to:

Confirm it's plugged in and working properly.
Check for any frozen lines that need to be thawed.
Consider an extra length of hose to increase the distance at which it discharges away from your foundation.
Consider, if your sump pump drains to the surface, the discharge point may be buried under snow and ice. Uncover it and clear a path so the water drains away from your foundation. Otherwise, water may recycle back into your basement.

Clear snow and ice away from your foundation, providing a path for water to follow the natural grade around your house.
Ensure your downspouts are clear of snow and ice so water can route safely away. Shovel a path for the water to run well away from the foundation, or consider an extra length of pipe. (Stay safe: keep on the look-out for icicles that have formed and may fall from your eaves.)
If you know that a catch basin on your street is covered in snow and ice, we'd appreciate if you could take some time to clear it. This will help make sure that snow melt and rainwater can enter the storm sewer and promotes good drainage away from your neighbourhood.
Get 18 Flood Facts and tips to protect your property and view our video for more tips on preventing a soggy basement disaster.
Apply for preventative plumbing financial assistance.
Kingstonians concerned about the safety of a utility serviced by Utilities Kingston can call the 24-hour line at 613-546-1181.
For more information on keeping your home and family safe, visit our webpage about winter safety.