Data Privacy Week is Jan. 22-28: here's how we protect your privacy
This article was published more than 6 months ago. Some information may no longer be current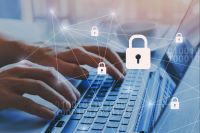 January 22-28 is Data Privacy Week. As a Data Privacy Champion, Utilities Kingston is reaffirming our commitment to respecting your privacy. You can count on us!

Data Privacy Week raises awareness of how personal information is being used, collected or shared in our digital society.

Here are the actions we have taken to ensure the protection of your personal information:

1. Conducted an assessment of our data collection practices.

2. Developed a privacy policy and clear, plain language information on your privacy, so we can be transparent about how we collect, use and share customers' personal information.

We're also creating a culture of privacy in our organization by educating employees of their and our organization's obligations to protecting personal information.
About Data Privacy Week:
Last year, the National Cybersecurity Alliance (NCA) expanded Data Privacy Day into Data Privacy Week because your data is that important!
The goal of Data Privacy Week is to spread awareness about online privacy for individuals as well as businesses, highlighting the impact technology is having on our privacy rights and the importance of valuing and protecting personal information.
You can get involved at home, at work and in your community. Take action, help create a culture of privacy and support Data Privacy Week's goal of spreading awareness about online privacy.