Take action: Bell Let's Talk Day is Jan. 25
This article was published more than 6 months ago. Some information may no longer be current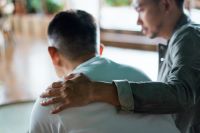 Bell Let's Talk Day is Wednesday, January 25. We are joining in and committing to take meaningful action to create positive change.
Since 2011, Canadians and people around the globe have joined in the world's largest conversation around mental health on Bell Let's Talk Day. But, with more than one in two people struggling with their mental health not getting the help they need, it is clear more needs to be done.
Let's change this.

Take action

on Bell Let's Talk Day and all year long!
This year's Bell Let's Talk Day campaign highlights ways we can all create meaningful change and take action by doing one or more of the following:
• Choose a mental health organization to learn about or support
• Help a friend struggling with their mental health by learning how to support them
• Ask about how your school, workplace or community is creating change for mental health
• Nurture your own well-being by practicing and learning mental health strategies
• Get involved in a mental health initiative or organize an event to support mental health
• Engage in conversations about mental health to fight stigma
Share your actions using #BellLetsTalk and help inspire others join the movement to create positive change.
We are proud to come together, take action, and help create change for mental health in Canada so that Canadians can access the mental health and addiction supports they need to flourish.
You can find resources, learn more about some of the organizations providing mental health supports and services throughout Canada and download the Bell Let's Talk toolkit to begin your own conversation about mental health and create positive change at home, school or in the workplace.
Please join us this Bell Let's Talk Day by showing your support for all those who live with mental illness and those taking action to help them.
About Bell Let's Talk Day
This year, the company is changing the campaign, replacing the pledge to donate based on the use of the phrase with a promise to donate $10 million instead, regardless of whether anybody texts, tweets or otherwise uses the phrase on Jan. 25.
Bell noted in a press release that $10 million is more than the company has donated in any single year since the initiative began, and it added that changing the program "will shift more emphasis on the day toward practical actions that we can all take throughout the year to create change."