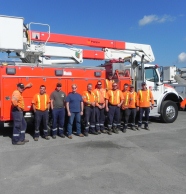 We are providing an update on our response to the severe rain and wind storms that battered Kingston on Saturday, causing damage to infrastructure, trees, and buildings. It's reported that some of the wind gusts reached 110 km/hour. Our team rose together to respond to this emergency, and we are very proud of the way our employees have handled it. We thank our community for your patience and the many positive messages we received.
Here are some highlights on our response and plans going forward.
Our response
Electricity system damage has been minimal, with one broken pole, while our journeypersons in measurement and communications have replaced 14 storm-damaged electric meters to-date.

Electricity crews dealt with 25-50 trees and several other limbs and branches.

We have responded to 32 power outages, with nearly 13,000 customers impacted in total.

Traffic signal crews worked around the clock to replace 36 traffic signal heads at 21 intersections. All intersections are back to normal operation.

Our gas system operations group responded to a fallen and uprooted tree that damaged a gas service, making the area safe and repairing the damage.

Treatment facilities experienced power outages. Operators from both Cataraqui Bay and Ravensview Wastewater Treatment Plants responded to the issues to ensure the plants remained operational.

One sewer overflow occurred at the foot of Collingwood Street, with system operations crews inspecting the shoreline the following morning.

System operations assisted the electricity crews by providing a hydrovac truck.
Planned work
Over the next few days, traffic signal crews will continue to re-align traffic signal heads and we will seek to restock our inventory of traffic signal heads.

We are repairing a leaning pole line on Leroy Grant Drive. This is due to moisture filled soil surrounding a new pole line.

As of December 13, we have three outages impacting 105 customers, for a broken pole and tree removal.
Please continue to report utility issues in our service area to our 24 hour emergency line at 613-546-1181. Thank you all our employees for the safe and effective response to this storm and for ensuring the continued reliability of utility services in Kingston.