Non-critical programs and services suspended to protect health and safety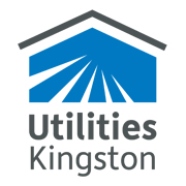 To help protect the health and safety of employees, and ensure the reliability of critical utility services, Utilities Kingston is suspending non-critical programs and services, until further notice.
The following are some of the programs and services that are suspended:
All public tours of our facilities.

Preventative Plumbing Program. If your existing application will be placed on hold, our program manager will contact you by email.

Proactive water, gas and electricity meter replacement programs. Urgent meter issues will be addressed and can be reported 24/7 to 613-546-1181.

Most capital construction projects and programs, including the 2020 water main relining program. (Urgent maintenance and emergency work will continue, as will the expansion of the Cataraqui Bay Wastewater Treatment Plant.)

Any other non-critical programs that require a visit from our employees to a home or business.
Utilities Kingston conservation programs and provincial Save on Energy conservation programs will continue to accept applications, but site visits will be postponed. Applications that are underway will continue processing.
To help relieve some hardship for our customers during this uncertain and difficult time, Utilities Kingston is postponing any non-essential planned power outages.
We will ensure the continued reliability of water, wastewater, natural gas and electricity services to our customers. Our apologies for the inconvenience as we work to help contain the spread of COVID-19.
If you have any questions or concerns, please contact customer service, Monday to Friday, from 8 AM to 5 PM.