Utilities Kingston invites input on public safety awareness, online and by telephone
This article was published more than 6 months ago. Some information may no longer be current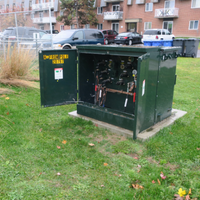 Until early March, we are conducting our bi-annual survey to get input from the public on their understanding of electrical safety. The survey is being offered online or by telephone.
We want people to know that these phone calls and questions are authorized by Utilities Kingston. We've been supplying Kingston residents with safe and reliable utility services for over a century and take that very seriously. Sharing your opinions helps us continually improve public safety.
We have contracted UtilityPULSE, an opinion research firm, to engage 400 residents and business owners in central Kingston and ask a few questions relating to the safety of Utilities Kingston's electrical services.
To complete the online survey:
The online survey is now closed and we thank you for your interest. Phone calls will continue to March 1.
You may receive a phone call from UtilityPULSE, displaying the number 613-777-1015.

They will ask to speak to a person who is over the age of 18 and then proceed with the survey.

It takes less than 10 minutes to complete.
We are one of many electric utilities in Ontario now conducting public safety awareness surveys, as required by the Ontario Energy Board.
Questions or concerns about the survey can be directed to customer service, Monday to Friday, from 8 AM to 5 PM, by calling 613-546-0000.
UtilityPULSE and Utilities Kingston take the protection of personal information very seriously. For the phone survey, UtilityPULSE purchased telephone numbers from a third-party provider. Their policy is to erase any contact information from their system 90 days after the survey is complete.
Data is collected over the telephone and online by UtilityPULSE, to rate the public's understanding of electrical safety. UtilityPULSE will provide an aggregated summary of the results to us. We will use this information to help improve electrical safety awareness. The information will be retained in accordance with the UtilityPULSE privacy policy.