We're making improvements in your neighbourhood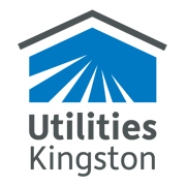 Utilities Kingston is making improvements to community infrastructure. Home and property-owners: see if we are planning to complete capital construction in your neighbourhood this year.
Use the interactive online map. Improvements ensure the continued reliability of multiple utility services, help support growth and economic development for Kingston and protect the environment. This map shows the capital work we are doing to improve community infrastructure and ensure the continued reliability of utility services. It's a great way to see how planned work may affect you and your neighbourhood. Enter your address to see when, where and what kind of infrastructure work we are completing.
You can count on us, throughout the COVID-19 pandemic and beyond, to provide the water, wastewater, natural gas, electricity and broadband networking services that you rely on. A full list of planned projects follows these notes on where to get information and how to plan ahead to take advantage of upcoming work.
The interactive online

map

offers a detailed look at improvements we are making to local water, wastewater

, natural gas

and electricity systems in

2022

.

Follow @utilitieskngstn on Twitter for updates.

If we are planning work in your

neighbourhood

that could disrupt services to your property, staff will make every effort to mail a direct notice to your property in advance.
Plan ahead

to take advantage of construction
Have plans to make improvements to your property? Schedule them to coincide with planned construction work in your area to reduce disruption to your property and services.
Here's a summary of work planned for the spring, summer and fall of 2022 (only larger, currently-active projects appear on the above-listed map). More projects will be added to the map as they come online over the course of the construction season.
Water and wastewater

(together)
Renew  water and wastewater infrastructure, coordinated jointly with the City of Kingston:
on

Palace Road

,

 from Brock to Johnson

;

replacing

aging

infrastructure

.

on

Garrett St

reet

;

replacing

aging infrastructure

and support

ing

economic development.

on

Dunkirk

Street

;

replacing

aging and end-of-life infrastructure to ensure the continued safety and reliability of water and sewer services

.

on

St. Lawrence

Avenue

(

King to Stuart

)

, Steph

e

n

Street (

Cowdy

to Montreal

)

, Stanley

Street (

Alfred to Lansdowne

);

replacing

aging and end-of-life infrastructure to ensure

the continued safety and reliability of water and sewer services

and separate combined sewers to reduce sewer overflows

.
Utilities Kingston will also link sewer and water infrastructure to provide operational flexibility, on Front Road.
Complete the new trunk water main on O'Connor Drive, to

allow greater system flexibility, helping to ensure fire protection. 

Line end-of-life water

m

a

ins

in the Collins Bay area, and on

Byron

Crescent

, Piccard

Place

,

Van Order Drive

and

Michael Grass

Crescent.

Install

new

water main on Highway 15 (

Main St

reet,

B

arriefield

to

Highway 2

) to improve capacity and water pressure in the area.

Upsize

water

main on

Westbrook R

oad

to

support development and improve service reliability

in the area.

Continue the

new large-diameter water main on King Street West for operational flexibility.

Improve water distribution to ensure continued water quality via water main looping

from

from Greenview Drive to Parkway.
Continue with

replacing

the aging Days Road Sewage Pump Station in LaSalle Park to increase hydraulic capacity.

Commission the

multi-year expansion and upgrade to the Cataraqui Bay Wastewater Treatment Plant, to increase plant capacity, improve the quality of treated wastewater, and upgrade equipment.

Clean and inspect sanitary sewers in

Reddendale

, Henderson Place

and

Auden Park, to ensure continued service reliability.

Twin

sections of

the North End Trunk Sewer

(

Greenview Drive to Parkway),

to increase capacity for development and alleviate surcharging in the trunk sewer

.

Rehabilitate

trunk sewer mains

, through Central and West Kingston, for ongoing reliability of the sewer, environmental

protection,

and public health.

Install structural liners in local sewer

s

, in the area bounded by Sir John A. Macdonald Boulevard at Palace Road, Division Street, Concession Street and Johnson

Avenue;

for proactive rehabilitation

and service reliability

.

Separate

combined sewers on

Gore St

reet

– at Bagot and from King to Ontario –

to reduce sewer overflows for environmental protection.

Extend the sewer

forcemain

in Westbrook (C

ollins Bay Rd. at Woodbine

), to support growth and development in the area.
For the ongoing safety and reliability of the natural gas distribution system:
Repair

end-of-life steel gas main

on

Lower Union

Street at

Ontario

Street.

Replace

end-of-life

steel gas main

on

Norman Rogers

Drive

/Roden

(from

Johnson to Mulcaster

).
Electricity
For the safety and reliability of electricity services:
Continue with replacing end-of-life poles on Highway 2 (Niagara Park to Craftsmen) and Leroy Grant Drive (John Counter to Third Avenue).

Add 13.8 kV overhead circuit from Municipal Substation No. 16 to the John Counter and Rigney Street intersection. This upgrade is needed to support development in the Williamsville area.

Replace end-of-life backyard poles on Ruskin Street, and on Regent Street between Princess and Park.

Replace underground cable with overhead circuit along Barrie Street between Union and King Street East. This project will replace aging/failing infrastructure on Barrie to ensure the continued reliability of power to the hospital and university districts.

Replace transformer and equipment at Municipal Substation No. 5 to improve power reliability to the CFB Kingston electrical distribution system.

Replace end-of-life equipment in Transformer Vault No. 18 (near the corner of Ontario and Brock), and Transformer Vault No. 4 (near the corner of Bagot and Princess). Every time we need to operate this equipment, we require a power outage to ensure worker protection. This upgrade will reduce the number of outages required for our customers.

Replace deteriorated roof on Municipal Substations No. 2 and Municipal Substation No. 6 (where we will also repair walls).
For more information, contact customer service, Monday to Friday, from 8 a.m. to 5 p.m. by calling 613-546-0000.