Beware of phone calls asking for banking information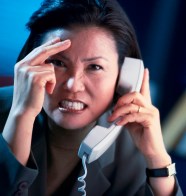 Utilities Kingston is warning customers to be aware of callers requesting banking or other personal information. We've received several reports from concerned customers.
If you receive a suspicious call:
Do not provide any personal information, including banking information, or Utilities Kingston or credit card account numbers.

Collect any information possible about the caller.

Report the incident to the Canadian Anti-Fraud Centre at 1-888-495-8501. This agency collects information on fraud and works closely with police to solve these crimes.

If you become a victim of fraud through monetary loss, call Kingston Police at 613-549-4660.

Remember, you have the right to refuse access to your home, and to ask sales people to leave your property. If they don't, then contact police.
If you receive a suspicious phone call regarding your utility services, hang up and call to let us know. A customer service representative is available Monday to Friday from 8 AM to 5 PM by calling 613-546-0000. Learn more about consumer awareness.