We hope you enjoy our upgraded website!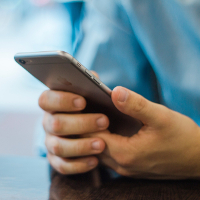 Utilities Kingston has launched an accessible, responsive version of our corporate website and we hope you enjoy it!
The accessibility upgrade helps improve the website experience for visitors with disabilities, while the new responsive design ensures that customers using a mobile device will benefit from improved access to our online services and information.
There are rules and deadlines that businesses in Ontario must follow to make their websites accessible for people with disabilities. Our new website meets these requirements, in advance of the January 1, 2021 deadline.
We're proud to deliver these improvements well ahead of Ontario's deadline. Our customers rely on our website for many things: to connect with utility services, access information to protect their home and health, be more energy efficient and water wise, and stay informed on service interruptions. By making our website accessible and responsive, we are ensuring that everyone is included, and has reliable access to services and information.
Our website has 15,000 users per month, with 45 per cent of users visiting from a mobile device. Most-often accessed are website pages related to power outages, careers, basement flooding prevention, payment options, and opening a utility account.
The accessible and responsive website was updated in house by a team of Utilities Kingston employees. It is optimized for the latest mobile devices and the following browsers: Google Chrome, Apple Safari, Mozilla Firefox, and Microsoft Edge, and the last two versions of Microsoft Internet Explorer. Accessibility improvements were made in accordance with the W3C Web Content Accessibility Guidelines 2.0 Level AA and were tested to be screen reader friendly.
Feedback
Some web pages have been moved as part of this upgrade. Customers who are experiencing issues using the new website, have trouble finding a web page, or have feedback on the new design, can call customer service, Monday to Friday, from 8 AM to 5 PM.
Websites at http://www.kingstonhydro.com/ and https://my.utilitieskingston.com/ are not impacted by this change.