Water meter replacement program - Neptune Technology Inc.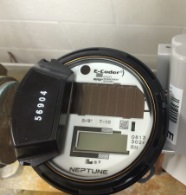 It's important that customers receive accurate bills for the amount of water consumed by their household or business. Reliable metering equipment is critical to this. Utilities Kingston has contracted Neptune Technology Group to replace meters and ensure they accurately record the consumption of water.
WATCH FOR YOUR APPOINTMENT PAMPHLET IN THE MAIL
Installations will begin September 2022 and will be carried out on an area-by-area basis. As Neptune installers move into your area, you will receive an informational pamphlet by mail, which contains all necessary booking information along with details about the installation program.
Key information
There is no cost for the equipment or installation.

A Neptune Technology Group certified technician will need access to the inside of your home or business to complete the installation.

Technicians will always be in uniform, carrying photo identification.

The work typically takes 30-90 minutes to complete.

Morning or afternoon appointments are available, Monday to Friday, between 8 AM and 8 PM, and Saturdays from 9 AM to 6 PM.

An adult, 18 years of age or older, must be present during the installation, and must be available for the entire appointment duration.

There must be easy access to your existing water meter and the shut-off valve. Before your appointment time, have a licensed plumber repair inoperable valves.

An opening of approximately 16 by 16 inches is needed if the meter/valve is behind a wall, partition or covering.

Your manual reading device will be upgraded to a new ecoder receiver transmitter (ERT) device. The upgrade will require our technician to run a new wire connection from the transmitter to the meter. Normally this can be completed in the same location as the meter.

This program is mandatory for all homes and businesses.
Please wait to book an appointment until you have received the pamphlet from Neptune, which will include further instruction.
For more information about the program from our web page about reliable metering equipment, or by calling customer service at 613-546-0000, Monday to Friday from 8 AM to 5 PM.
The water meter replacement program is an important part of the process to ensure continued accurate billing for all customers. We thank you and look forward to your support and co-operation to make this program a success.