Update on power restoration, traffic signals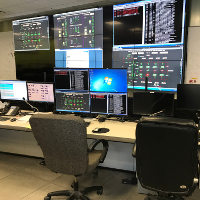 Our crews are responding to restore power outages and signalized intersections, which were affected by wind damage. At peak, 6,000 customers were without power. As of 4:30 PM today, 600 customers remain affected. All hands are on deck and we are prioritizing the work to restore power as safely and quickly as possible.
Our phone lines may be overwhelmed. Report potentially life threatening emergencies, such as downed power lines, by calling 9-1-1.
Check our outages map for updates. Utility issues in our service areas can be reported 24/7 to 613-546-1181.
Power restoration update
Crews have reduced the outage area from 6,000 customers to 600. We thank the community for your patience and understanding. We are now focused on restoring areas that remain affected by downed trees and wires, and broken poles.
We expect that up to 200 customers may be without power throughout the night. As of 4:30 PM, the following are estimated times of restoration.
Campbell Crescent general area: 5:30 PM

Collingwood Street general area: midnight

Dickens Drive general area: midnight. For the southwest portion of the street, restoration may be delayed until midnight Saturday.

Kensington Avenue general area: late Saturday evening

Wolfe and Young Street general area: late Saturday evening


Individual customers, in situations where private service lines have been damaged: Sunday
Safety reminders
Review our power outage precautions. For example:
Avoid using a propane barbeque, camp stove or portable standby generator indoors.
Plan to turn off all appliances that will turn on automatically when power is restored.
Locate a phone that does not require electricity, as well as a flashlight and batteries.
Consider an alternate source of power for your sump pump and any medical equipment.
Traffic signals update
Traffic signal crews focused their efforts today on major intersections, and traffic signals that were flashing.

All intersections operated by Utilities Kingston are currently functional.

41 traffic signal heads are missing at 31 intersections.

Crews will work through the night to make repairs.
Several intersections have been damaged by wind. Look up for dangling traffic signal heads and proceed with caution. Remember to treat signal outages as four-way stops.
Stay updated
We strive to provide reliable and timely information about utility interruptions. Stay up-to-date with our outages map, and by following us on Facebook and Twitter.
Downed lines and tree branches
If you see a downed power line or tree branch that has fallen on a power line, always assume it still has electricity flowing through it, even if it isn't sparking.
Stay back at least 10 metres or 33 feet (that's about the length of a school bus) and don't touch anything metal (such as guard rails) in the area.
Report it immediately by calling 911 or our emergency line at 613-546-1181. This line is answered 24 hours a day, seven days a week.
If a power line falls on your car, the car and the ground around it may be electrified and you could be killed if you get out of the vehicle. Stay inside until the utility workers tell you it's safe to get out. Tell everyone to stay back 10 metres or 33 feet.
Traffic signals may not be working
Consider these precautions:
During stormy weather, be aware of, and avoid driving or walking under, dangling traffic signal heads. Report traffic signal issues in Kingston to 613-546-1181.
Power outages and high winds mean that a number of traffic signals may not be working. Travelers are reminded to treat the affected intersections as though they are four-way stops and yield to traffic on the right.
Did you know? We've installed 82 uninterruptible power supplies at critical intersections throughout the city - check out this map of locations. In the event of a power outage, the UPS allow for safe and efficient traffic flow, providing power for three to six hours.
Also review these tips from the Ministry of Transportation with safety information about driving and flooded areas.
If you have any concerns about utility equipment, contact the Utilities Kingston 24-hour line at 613-546-1181.