Register online for Safety Days: mandatory health and safety expectations training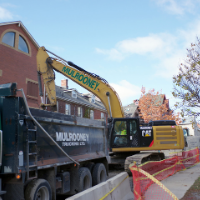 Safety Days eLearning 2022 will provide for the  health and safety expectations necessary to pre-qualify for quotation work, for Utilities Kingston and the City of Kingston.  Contractors wishing to meet the requirements for the pre-approval list: at least one management representative from your firm must complete the program.  
The deadline for completing the eLearning program is May 20. 
The annual Safety Days event is jointly hosted by the City and Utilities Kingston to promote best safety practices amongst employees – and local contractors and suppliers in the industry. Due to the ongoing COVID-19 pandemic, the in-person event will not take place this year.  Our goal is to instill safety as the highest value in the workplace, and to get everyone home safe, every day. This training ensures that all contractors who conduct work on our behalf, either through a contract or quotation basis, understand the required health and safety expectations. 
Register to request the Safety Days eLearning program, using our online form. Once your request is approved, we will email you a link to the Safety Days eLearning program. The deadline to complete the course is May 20.  
Thank you very much for your ongoing participation in our Safety Days event. We are all in this together and are looking forward to meeting in person again in a future year.