Property owners: learn how to safely reopen buildings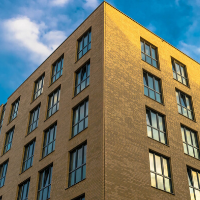 Utilities Kingston and the City of Kingston are providing safety information for owners of properties that have been unoccupied, or at reduced building occupancy, due to the COVID-19 pandemic.
This information is being offered in response to indications from the Province that certain businesses may now prepare to reopen. Before reopening or increasing your building's capacity, follow the guidance below to check on its water quality, as related to internal building plumbing, and for potential sewer gas build-up.
Property owners are reminded: your utility provider is responsible for maintaining and repairing equipment up to the ownership demarcation point. It is your responsibility to maintain and repair equipment beyond this point.
What to do if you smell sewer gas
If you smell sewer gas inside your property, call our 24-hour emergency line at 613-546-1181.
Water quality considerations
During the COVID-19 pandemic, Utilities Kingston continues to operate water treatment facilities and associated systems to ensure a supply of high-quality drinking water to every home and business within the urban area of Kingston.
Property owners should be aware that the potable water in unoccupied or reduced-occupancy buildings may become stagnant in interior plumbing pipes or on your property beyond the demarcation point.
Before reopening or increasing your building's occupancy, you should take steps to help ensure the provincial drinking water quality standard is being met. These steps could be carried out in accordance with:
Any manufacturer's direction on internal plumbing equipment

Applicable municipal bylaws

The advice of a licensed plumber

The property's Building Water Management Plan

Any other applicable regulations or guidelines
Property owners may also want to consider the following:
Flushing water lines and privately-owned fire hydrants.

Routine maintenance on mechanical equipment, point-of-entry, and point-of-use devices.

Routine maintenance of building plumbing, including trap seals, floor drains, sink drains and water filters.

Abiding by the installation, maintenance, and testing of approved backflow prevention devices, in accordance with Water By-law No. 2006-122.

Communicating with building occupants.
For further information, building owners may consider the following resources:
Contact
Questions regarding water quality? Call Utilities Kingston's Water Quality Office at 613-546-1181, ext. 2525.
Questions about plumbing? Call City of Kingston Building Services at 613-546-4291, ext. 3234.