You can count on us! Progress in your neighbourhood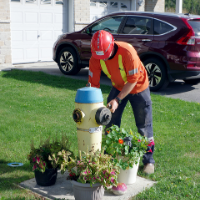 Throughout the pandemic, our teams from multiple departments have been hard at work, and we continue to provide Kingston with safe and reliable core utility services. We wanted to provide an update on completed and in-progress projects. You can count on us!
Thank you to all employees for your continued efforts, and to our community for your patience and cooperation. We can be very proud of our accomplishments during these challenging times!
The following

highlighted projects

have been recently completed:
Added cathodic protection to metallic water mains to increase the life of this infrastructure on Woodbine Road.

Replaced 40 water services in the Lawrence Park subdivision. Crews replaced 45-year-old municipal water service laterals on Aylmer and Willis to improve operating efficiency by reducing system water loss.

Installed sanitary sewer main on College Street.

Renewed water and wastewater infrastructure on Collingwood Street (from Earl to Couper), as part of a joint-infrastructure program with the City of Kingston.

Pipework complete: Combined sewer separation to reduce combined sewer overflows. This work took place on College Street (from Union to Hill), Napier Street (from Hill to Earl), Toronto Street (from Earl to Johnson) and Frontenac Street (from Earl to Johnson).
Pipework complete: Renewing water and wastewater infrastructure on Victoria Street (Princess to Concession), to ensure continued safe and reliable utility services. 
To support a new housing development on Conacher Drive, our in-house team of gas operators have installed 2.5 kilometres of gas main.
Replaced three 44kV air break switches with new load break switches. This is for worker protection and to maintain power to our customers at the following locations (photo shown above, courtesy Paul Wash):

Palace Road, near Carruthers

Johnson Street, near Regent

Portsmouth Avenue, at Calderwood
Streetlights and traffic signals:
Constructed new traffic signals on Taylor Kidd Boulevard at Bexley Gate.
The following
highlighted projects
are in progress:
Water and sewer work at Glengarry and Portsmouth:
In this joint reconstruction project with the City of Kingston, we re-route water and wastewater servicing and increase capacity on Glengarry Road (Indian to Portsmouth), Portsmouth Avenue (Glengarry through Princess to Howard) and the Easement from Portsmouth to Parkway.

We replace end-of-life infrastructure for the continued reliability of water and wastewater services and create additional capacity for an upcoming development project.

Approximately 1 kilometres of sanitary sewer will be reconstructed from Princess to Glengarry, and from Portsmouth through an easement to the North End Trunk Sewer adjacent to Parkway. Additionally, we will reconstruct 370 metres of water main.
Watermain replacement on Wright Crescent
The project will replace 400 metres of end-of-life watermain on Wright Crescent.
In addition to ensuring fire protection, this project was expedited to support development in the area.
New sewer lining program will extend life of infrastructure – with no digging required! Utilities Kingston has introduced a new annual sewer lining program to rehabilitate aging pipes and improve operating efficiency – using a process that avoids digging up pipes and disrupting neighbourhoods. Starting in July, up to 5,000 metres of sanitary sewer main are being relined in Kingscourt. We expect this program to wrap up in September.

The revised 2020 water main relining program, which involves relining approximately 2,700 metres of water main, primarily in the Collins-Bayridge residential area in the west end of Kingston.

The multi-year expansion of the Cataraqui Bay Wastewater Treatment Plant for renewed facility infrastructure and increased treatment capacity for fire protection.
The large multi-year electrical upgrade of Municipal Substation No. 1 to improve service reliability and increase load capacities to customers in the downtown core. Work continues on the transformer, 44 kV breaker, load break switch installation, and relay and protection upgrades.

Replacing end-of-life poles on Bath Road, HWY#2, MacDonnell Street, Johnson Street and Dalton Avenue.

Upgrading end-of-life underground equipment:
Cable installation to the transformer vault on Victoria Street at Princess

Electrical Underground Distribution Expansion to support local development
The following highlights will begin later in 2020:
Improve water distribution to ensure continued water quality, in the Calvin Park neighbourhood via water main looping.

Clean and inspect sanitary sewers in the Portsmouth, Calvin Park and Polson Park areas, to ensure continued service reliability.
Provide 44 kV feeder teleprotection by installing fibre optics at the Hydro One Frontenac Transformer Station, for increased service reliability.

Replace two pole lines on HWY#2 (between Princess Mary and Niagara Park) with one pole line.

Replace end-of-life backyard poles on Johnson (between Roden and Portsmouth).
The following projects have been deferred:
Redirect the King-Portsmouth sewage pumping station for improved operating efficiency and construct a new interconnecting water main, in a multi-year water and wastewater project.

To resume in 2021: Replace the aging Days Road Sewage Pump Station in LaSalle Park to increase hydraulic capacity.