Stay safe during Powerline Safety Week May 15-21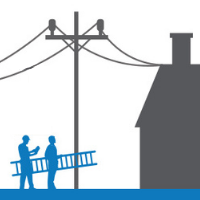 To help educate the people who live and work in Kingston, and keep them safe, this Powerline Safety Week (May 15 to 21), we are partnering with the Electrical Safety Authority to bust the myths around the deadly hazards of powerlines.
In Ontario, the number of powerline contacts reported in the general public have increased over the last three years. From 2012 to 2021, nineteen fatalities and 1,393 overhead powerline contacts were reported. Almost one-third involved accidental powerline contacts from backyard activities like tree pruning, when using high reach equipment or due to outdoor home renovations.
"The danger that powerlines pose is very real, and a powerline contact can have devastating consequences in an instant," said Patrick Falzon, Powerline Specialist at the Electrical Safety Authority. "We know there are many myths out there that may provide a false sense of security around powerlines, but whether you are cleaning up the yard or come across a downed powerline from a storm, there are important steps you should take to keep yourself and those around you safe."
Remembering to stay three metres away from overhead powerlines could save your life. Whether you're landscaping, taking down Christmas lights, or breaking ground on a new deck, stay aware of your surroundings. One single distraction – no matter how momentary – could cause a life-threatening injury or fatality.
Some of the most common myths around powerlines include:
Myth: Downed powerline wires need to be moving or arcing if they are energized.
Fact: Always assume a downed powerline has electricity flowing through it, even if it isn't moving. Stay back at least 10 metres (that's the length of a school bus), call 9-1-1 and your local hydro utility.

Myth: Orange cover-ups on powerlines will protect others from electrical shock.
Fact: More than 67 per cent of construction workers in Ontario believe this or aren't sure. This is a deadly misconception. Orange cover-ups on powerlines are used for identification purposes only and you should always remain a minimum of three metres away from overhead powerlines.
Myth: If my ladder isn't metal, it can rest on or near the powerline.
Fact: No matter what a ladder is made of, it is a possible hazard. Be safe. Keep all ladders three metres away from overhead powerlines.
Myth: More than a third of Ontarians believe (or aren't sure) if wearing leather gloves or safety boots can protect them from a powerline shock.
Fact: Always stay at least three metres away from powerlines with yourself and your tools, no matter what safety gear you may be wearing.
Myth: Your tool/ladder needs to touch a powerline to get a shock or burn.
Fact: More than 40 per cent of Ontarians mistakenly think this might be true – it is not. Anything that comes within three metres of an overhead powerline – a pruning tool, the tree limb or your hand – can give you a shock, burn or kill you.
Myth: I'm just digging a couple of feet into the ground. I don't need to worry about underground lines.
Fact: The lines may be closer than you think, or a grading change may have happened over time. Better to be safe than sorry. For any sized dig, you must click before you dig! Contact Ontario One Call to request utility locates. Call 1-800-400-2255 or click Ontario One Call. It's free, it's easy and it's the law!


Get more information and tips about powerline safety. The ESA also offers information for homeowners and construction workers.