Natural gas safety: report gas smells, install and obey alarms
This article was published more than 6 months ago. Some information may no longer be current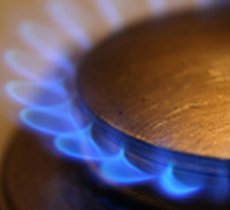 As winter approaches, and more modern gas-fueled appliances are in use, Utilities Kingston urges customers to read and follow the gas safety tips below.
Do you know what to do in case of a potential natural gas leak or if you carbon monoxide alarm sounds? Read on to learn more.
Safety tips

Did you know that an odourant is added to natural gas so that you can smell it in case of a natural gas leak? This compound – mercaptan – has a strong 'rotten egg' smell that helps keep you safe.
If you don't have a sense of smell, it's important to install a natural gas alarm in your home, in accordance with manufacturer directions.
Report gas smells or "hissing"
If you are inside and smell gas or hear a hissing sound, leave immediately. It is important that you do not do anything that could create a spark – don't switch a light on or off, and don't use cell phones or lighters, for example. If you are outside, clear the area and do not use lighters or start vehicles. Call 911 when you are safe.
Install and obey carbon monoxide (CO) alarms
CO is an invisible, odourless gas that can be fatal in high concentrations. If your CO alarm goes off, immediately evacuate all occupants (pets, too!), and call 911.

Ontario Fire Code requires all homes (whether single-family, semi, or other) with fuel burning appliances (including fireplaces) and/or attached garages, to be equipped with carbon monoxide alarms. These alarms should be located outside of all sleeping areas. For added protection, install a carbon monoxide alarm on every story of the home.

If you live in a condo or apartment building that has a service room, CO alarms must be installed in the service room and adjacent to each sleeping area of all units above, below and beside the service room.

In condo or apartment buildings that have a garage, CO alarms must be installed adjacent to each sleeping area of all units above, below and beside the garage.
Prevent carbon monoxide (CO) in your home

Help prevent CO in your home by getting all your fuel-burning appliances inspected annually by a registered contractor. Visit COSafety.ca to find a registered contractor near you.
Using natural gas is safe.
Modern gas appliances are certified to high standards, they have built-in safety features, and the contractors who install them are specially trained and licensed.
Click here to find more details on natural gas and its safe use.
Utilities Kingston provides multi-utility services in Kingston, Ontario, including safe and reliable gas distribution services to customers throughout Central Kingston.