Keech receives Municipal Employee Recognition Award
This article was published more than 6 months ago. Some information may no longer be current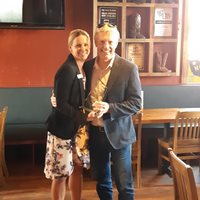 On May 16, 2018, at the Greater Kingston Chamber of Commerce municipal reception, Jim Keech, president and CEO of Utilities Kingston, received the Municipal Employee of the Year Recognition Award.
The Chamber presents this award to an individual who has gone above and beyond his or her duties to contribute to the economic well-being and quality of life in our local community.
Jim received the award for a successful career highlighted by exceptional strategic planning, project management, and long-term capital infrastructure planning and budgeting.
Throughout his leadership, Jim furthered his vision to build better communities, helping to lead a team that successfully completed the first three phases of Princess Street reconstruction, from building-edge to building-edge. This replacement of underground services, coordinated with streetscape improvements, was carried out with businesses and merchants remaining open to service residents and tourists.
Jim has contributed to the broader utility industry by serving on the Board of Directors for Utilities Kingston, Kingston Hydro Corporation, the Ontario Municipal Water Association (OMWA) and Plug'n Drive. He is a past chair on the Board of Directors for the Electricity Distributors Association (EDA) of Ontario, receiving the EDA's Chair's Citation in 2018, and was a past member on the Board of Directors of the Municipal Electric Association Reciprocal Insurance Exchange (MEARIE) as well as the Utilities Standards Forum.
With nearly four decades of experience, he has established an environment within Utilities Kingston to foster innovation in managing, operating and maintaining community infrastructure. Corporate successes include world-class, environmentally-sound facilities, award-winning conservation programs, and a first in Canada: a real-time sewer overflow notification system that enables residents to make better informed decisions when to swim, fish or boat in Lake Ontario.
Thank you to the Chamber for recognizing Jim Keech with the 2018 Greater Kingston Chamber of Commerce Municipal Employee of the Year.