March 8 is International Women's Day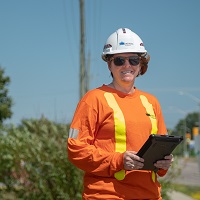 Employing and supporting a diverse team of people is important to an inclusive and engaged workforce. A diverse employee base brings many benefits to a company, including a broad talent and skill pool, innovation through different points-of-view, and improved performance and overall community development.
While there are many ways to define diversity – such as race, gender, sexual orientation, disability, and more – International Women's Day reminds us that an equal world is an enabled world. Utilities Kingston supports an inclusive workplace and we are proud to celebrate and support the achievements of women.
We appreciate all employees for their valued contributions. Whether in a skilled trade, administration or management, we empower women in their careers. On March 8, join us by recognizing International Women's Day.

We'd like to share some perspectives from our employees:
"My experience as a water operator has been amazing. I am part of an inclusive and supportive field crew. My co-workers are generous about sharing their knowledge and I have learned so much. I encourage more women to get involved in the trades!" - Samantha Bowden, Underground System Operator
"Every year, our workforce becomes more balanced, with more women joining our teams. I'd like to see people's language change to match that and be less gendered. Instead of "send the guys out", why not "send the team out"?" - Caitlin Newey, Conservation Officer
"Equality in the workplace empowers women to succeed, by allowing them to achieve goals previous generations thought they'd never have a shot at." - Megan Lockwood, Water Quality Assurance Operator
"Be the woman who wakes up strong with purpose. The woman who shows up determined every day. The woman who knows anything is possible, eager to embrace the next challenge ahead." - Elizabeth Griffiths, Apprentice Electrical Operator
"At Utilities Kingston, we understand the importance of a gender diverse workforce, including in the trades. That's why we are a partner of the Women of Powerline Technician organization." - Katie McNichols, Human Resources Advisor
"I celebrate women's achievements within my workplace because incredible things happen when we support each other." - Meghan Sullivan, Receptionist and Customer Care Clerk
"Be you, be reliable, follow your passion and always bring a new perspective to the table, like the strong women who came before us." – Melissa Hunter, Utility Accountant
"I am proud to be a strong, reliable and successful woman in my profession. My hopes are that when my daughters and all other future generations of women join the workforce, their gender will not be seen as a barrier, but rather an asset." – Kerrie Smith, Service and Gas Operations Clerk
"86 per cent of women report that when they see more women in leadership, they are encouraged they can get there themselves." – Laura Deak, Amanda Gallagher, Audrey Jones, Wendy O'Keefe, Julie Runions, Karen Santucci, Heather Smith, Martina Tremmel; managers and supervisors at Utilities Kingston.
Learn more about International Women's Day and join the conversation on Twitter, March 6 and 8 @utilitieskngstn #IWD2020 #EachForEqual.