International Women's Day is March 8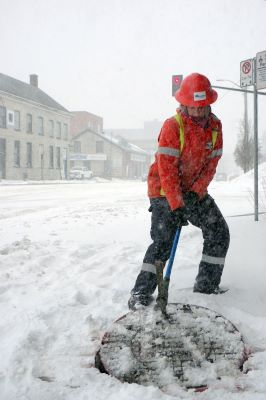 At Utilities Kingston, we want to create a community where everyone feels they belong. That's why we are proud to participate in International Women's Day. We're celebrating from March 7-11, because one day just isn't enough!
This year's theme is Break the Bias and we celebrate by profiling some of the women working at Utilities Kingston in technical, science or engineering positions. It is well known that women remain underrepresented in these fields. Follow Utilities Kingston on Twitter, Facebook and LinkedIn to see their stories, or view our web page on International Women's Day 2022.
We are proud of the accomplishments of our colleagues and everyone who contributes to Utilities Kingston!
About International Women's Day
Imagine a gender equal world. A world free of bias, stereotypes and discrimination. A world that's diverse, equitable, and inclusive. A world where difference is valued and celebrated. Together we can forge women's equality. Collectively we can all #BreakTheBias.
Celebrate women's achievement. Raise awareness against bias. Take action for equality. Marked annually on March 8th, International Women's Day is one of the most important days of the year to:
celebrate women's achievements

raise awareness about women's equality

lobby for accelerated gender parity

fundraise for

female-focused charities
In this spirit, Utilities Kingston is donating $500 to the United Way KFL&A Tampon Tuesday drive.