City/Utilities Kingston win ESA Worker Safety award
This article was published more than 6 months ago. Some information may no longer be current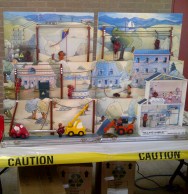 Tomorrow, the Electrical Safety Authority (ESA) will present its Worker Safety Award to the City and Utilities Kingston in recognition of the organizations' leadership in improving and promoting safety, both in the community and the workplace.
We are proud to be recognized for the second time this month for the commitment of our employees in making safety the overriding priority at Kingston work sites and in the community, Our partnership with the City of Kingston helps ensure everyone goes home safely, every day.
The ESA regulates the safety of electricity distribution in Ontario and its awards celebrate the accomplishments of organizations that bring us closer to a province free of electrical fatalities and serious injury, damage or loss.
Earlier this month, the joint City and Utilities Kingston Safety Days initiative received a national Recognition of Excellence award for Outstanding Achievement from the Canadian Society of Safety Engineering (CSSE).
The Worker Safety Award recognizes City and Utilities Kingston initiatives that include:
Annual Safety Days event, jointly hosted by the City and Utilities Kingston to promote best safety practices amongst their employees – and local contractors and suppliers in the industry. More than 400 participants attended the free sessions held during this year's Safety Days.
Increased safety awareness for students and children in the community, via electrical safety education delivered by front line staff.
Participation in awareness and prevention groups and initiatives.
Influence over the development of electrical safety policies and procedures with contractors throughout the community.
Hydro Ottawa and PowerStream Inc. will also be recognized during the presentation to take place in Mississauga. For more on the ESA see www.esasafe.com