Bell Let's Talk Day - Jan. 26, 2022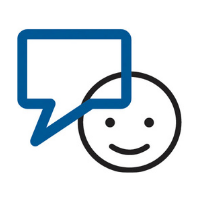 This year, on Bell Let's Talk Day, we are encouraging our employees and community to keep being there, keep talking and listening with compassion. Let's remind each other that we're not alone.
The Bell Let's Talk Day campaign shines a light on the actions that we can all take, because now more than ever, mental health matters. Whether you're staying virtually connected with a family member, helping a neighbour, connecting with a co-worker, extending kindness to a stranger, or taking care of your own mental health, every one of us can play a part in our community, workplace and at home.
On Jan. 26, Bell will donate five cents to Canadian mental health programs for every applicable text, local or long distance call, tweet or TikTok video using #BellLetsTalk, every Facebook, Instagram, Pinterest, Snapchat, TikTok, Twitter and YouTube view of the Bell Let's Talk Day video, and every use of the Bell Let's Talk Facebook frame or Snapchat filter.
You can also find resources and download the Bell Let's Talk toolkit to begin your own conversation about mental health at home or in the workplace.