Wednesday, April 28 is the National Day of Mourning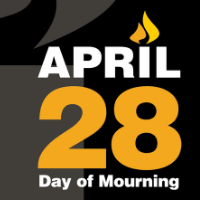 The National Day of Mourning is dedicated to remembering those who have lost their lives or suffered injury or illness due to a work-related tragedy. We also take time to recognize the many families and friends who have been deeply affected by these tragedies.
This year, we place a particular focus on the impacts of COVID-19. Since the start of the pandemic, 24 health care workers have died from COVID-19 — including 12 in the last six months in Quebec, Ontario, Manitoba and Alberta. (Feb. 2021 statistics.)
According to Public Health Ontario, 'workplaces' represent the number one location for outbreaks since the start of the pandemic, highlighting how important the safety measures at our workplace truly are.
The most recent statistics from the Association of Workers' Compensation Boards of Canada tell us that in 2019, 925 workplace fatalities were recorded in Canada. 882 were male workers, and 43 were female workers. Among these deaths were 29 young workers aged 15-24.
Sadly, in 2021 we have already lost two workers to fatal injuries in Ontario. We remember these industry workers and their families.
Let's fight complacency and renew our focus on health and safety in the workplace, to prevent further injuries, illnesses and deaths. By working together to keep one another safe, we can all go home safely, at the end of each day.
Join us on Wednesday, April 28 at 11 AM in a moment of silence.