Apply for a $100 credit when you purchase and install a smart thermostat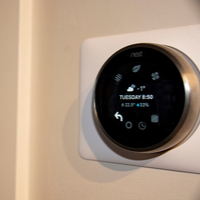 Utilities Kingston is offering a $100 bill credit on the purchase of smart thermostats to the first 250 eligible customers to apply by Dec. 31, 2020. This Save on Energy program is for residential customers who receive both gas and electricity services from Utilities Kingston.
Overview
A smart thermostat helps you conserve the energy used to heat or cool your home and saves you money on your biggest home energy cost. Smart thermostats use motion and occupancy sensors to automatically adjust temperatures and maximize energy-efficiency. Users can also adjust the thermostat remotely via Wi-Fi. Getting a smart thermostat is a great step you can take to reduce energy-related greenhouse gas emissions!
This Save on Energy program is offered by Utilities Kingston and Kingston Hydro in collaboration with the Independent Electricity System Operator.
How it works
Buy and install a smart thermostat that meets the technical requirements.

The program applies to smart thermostats purchased and installed by Dec. 31, 2020.

Complete the online application by Dec. 31, 2020 and send proof of payment to Utilities Kingston.

If you are eligible, and one of the first 250 to apply, Utilities Kingston will apply a credit of $100 to your utility account. (You must receive both gas and electricity services from Utilities Kingston.)
Subject to additional terms and conditions.
Before you apply
The model you purchase must meet the below technical, compatibility, and Wi-Fi requirements. Please ensure this before submitting your application. We are happy to help clarify! Please email conservation@utilitieskingston.com for assistance.
Technical requirements
The smart thermostat must meet the following technical specifications:
Wi-Fi enabled connection to home router with remote setting and control capability through a mobile device, such as iOS or Android based smart phone or tablet.

Ability to auto schedule.

Communication capability allows the firmware upgrade, thermostat data collection (such as temperature set point, HVAC system run time, etc.) by manufacturer remotely.
Compatibility
5 Wires 24VAC heating and cooling systems using gas, electric or dual fuels.

Must be compatible with any multi-stage heating and cooling units, including conventional heating and cooling systems, as well as heat pump systems with auxiliary heating.
Wi-Fi specifications
802.11b/g/n @2.4GHz
DHCP or Static IP address
WEP or WPA encryption
Apply now
Residents who receive both gas and electricity services from Utilities Kingston can review the complete eligibility requirements, find answers to frequently asked questions, view examples of qualifying models, and apply online. Visit our smart thermostat program page.